Home

>
Account of Hearing, 10 February 1843, as Reported by James Sloan [State of Illinois v. Olney]
Source Note

Account of Hearing, , Hancock Co., IL, 10 Feb. 1843,

State of IL v. Olney

(Nauvoo, IL, Mayor's Court 1843); handwriting of ; five pages; Nauvoo, IL, Records, CHL.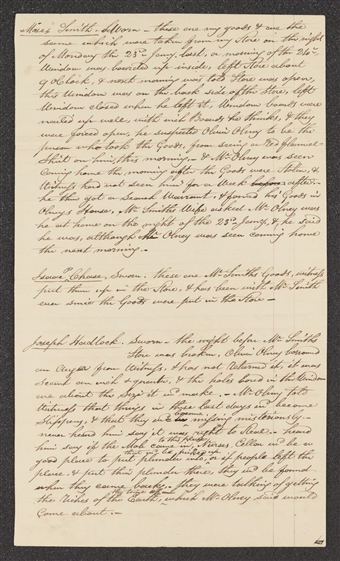 . Sworn— these are my goods & are the same which were taken from my Store on the night of Monday the 23
rd
Jan
y.
last, or morning of the 24
th
, Window was boarded up inside, left Store about 9 oClock, & next morning was told Store was open, this Window was on the back side of the Store, left Window closed when he left it, Window boards were nailed up well, with inch Boards he thinks, & they were forced open, he suspected to be the person who took the Goods, from seeing a Red flannel Shirt on him, this morning.— & was seen Coming home the morning after the goods were Stolen, & had not seen him for a Week
before
after.— he then got a Search Warrant, & found his Goods in s House, s Wife asked was he at home on the night of the 23
rd
Jan
y.
, & he said he was, although
he
was seen coming home the next morning.—
. Sworn. these are s Goods, witness put them up in the Store, & has been with ever since the Goods were put in the Store—
. Sworn— the night before s Store was broken, borrowed an Auger from Witness, & has not Returned it, it was Scant an inch & quarter, & the holes bored in the Window are about the Size it w
d
make.— told Witness that things in these last days w
d
become Slippery, & that they w
d
be
<​become​> missing misteriously.— never heard him say it was right to Steal.— heard him say if the Mob came in, <​to this place​> s Cellar w
d
be a good place to put plunder into <​that w
d
be picked up​> or if people left the place, & put their plunder there, they w
d
be found when they came back,— they were talking of getting the Riches of the Earth, <​the time of
wh
​> which said would Come about. [p. [4]]
. Sworn— these are my goods & are the same which were taken from my Store on the night of Monday the 23
rd
Jany. last, or morning of the 24
th
, Window was boarded up inside, left Store about 9 oClock, & next morning was told Store was open, this Window was on the back side of the Store, left Window closed when he left it, Window boards were nailed up well, with inch Boards he thinks, & they were forced open, he suspected to be the person who took the Goods, from seeing a Red flannel Shirt on him, this morning.— & was seen Coming home the morning after the goods were Stolen, & had not seen him for a Week after.— he then got a Search Warrant, & found his Goods in s House, s Wife asked was he at home on the night of the 23
rd
Jany., & he said he was, although was seen coming home the next morning.—
. Sworn. these are s Goods, witness put them up in the Store, & has been with ever since the Goods were put in the Store—
. Sworn— the night before s Store was broken, borrowed an Auger from Witness, & has not Returned it, it was Scant an inch & quarter, & the holes bored in the Window are about the Size it wd make.— told Witness that things in these last days wd become Slippery, & that they wd become missing misteriously.— never heard him say it was right to Steal.— heard him say if the Mob came in, to this place s Cellar wd be a good place to put plunder into that wd be picked up or if people left the place, & put their plunder there, they wd be found when they came back,— they were talking of getting the Riches of the Earth, the time of which said would Come about. [p. [4]]