Home

>
Affidavit from Shepherd Patrick and Others, 2 July 1843, George Walker Copy
Source Note

, Harmon Wasson, , and , Affidavit, [, IL?], 2 July 1843; handwriting of ; three pages; JS Office Papers, CHL.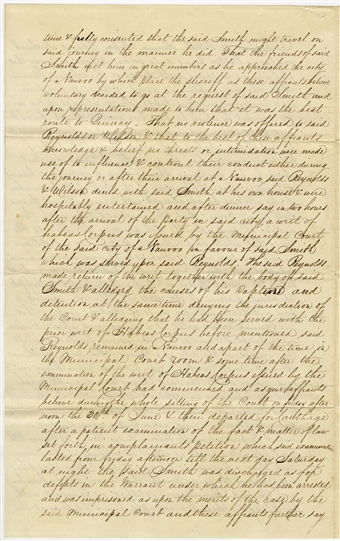 time & fully consented that the said Smith might travel on said journey in the manner he did. That the friends of said Smith met him in great numbers as he approached the city of by which place the sheriff as these affiiants believe voluntary decided to go at the request of said Smith and upon representations made to him that it was the best route to . That no violence was offered to said or & that to the best of these affiants knowledge & belief no threats or intimidation were made use of to influence & controul their conduct either during the journey or after their arrival at ; said & dined with said Smith at his own house & were hospitably entertained and after dinner say in two hours after the arrival of the Party in said , a writ of was issued by the municipal Court of the said city of in favour of said Smith which was served upon said . The said made return of the writ together with the body of said Smith & alledged the causes of his
Caption
<​Capture​> and detention, at the same time denying the jurisdiction of the Court & alledging that he had been served with the prior writ of Habeas Corpus before mentioned said remained in and a part of the time in the Municipal Court room & some time after the examination of the writ of Habeas Corpus issued by the Municipal Court had commenced and as your affiants believe during the whole sitting of the Court on friday afternoon the 30
th.
of June & then departed for after a patient examination of the fact & matter of law set forth in complainants petition which said examination lasted from friday afternoon till the next day Saturday at night the said Smith was discharged as for defects in the Warrant under which he had been arrested and was imprisoned as upon the merits of the case by the said municipal Court and these affiants further say [p. [2]]
time & fully consented that the said Smith might travel on said journey in the manner he did. That the friends of said Smith met him in great numbers as he approached the city of by which place the sheriff as these affiiants believe voluntary decided to go at the request of said Smith and upon representations made to him that it was the best route to . That no violence was offered to said or & that to the best of these affiants knowledge & belief no threats or intimidation were made use of to influence & controul their conduct either during the journey or after their arrival at ; said & dined with said Smith at his own house & were hospitably entertained and after dinner say in two hours after the arrival of the Party in said , a writ of was issued by the municipal Court of the said city of in favour of said Smith which was served upon said . The said made return of the writ together with the body of said Smith & alledged the causes of his Capture and detention, at the same time denying the jurisdiction of the Court & alledging that he had been served with the prior writ of Habeas Corpus before mentioned said remained in and a part of the time in the Municipal Court room & some time after the examination of the writ of Habeas Corpus issued by the Municipal Court had commenced and as your affiants believe during the whole sitting of the Court on friday afternoon the 30th. of June & then departed for after a patient examination of the fact & matter of law set forth in complainants petition which said examination lasted from friday afternoon till the next day Saturday at night the said Smith was discharged as for defects in the Warrant under which he had been arrested and was imprisoned as upon the merits of the case by the said municipal Court and these affiants further say [p. [2]]