Authorization for Stephen Markham, 27 May 1839
Source Note

JS, Authorization, to , , IL, 27 May 1839; in JS Letterbook 2, pp. 46-47; handwriting of ; CHL.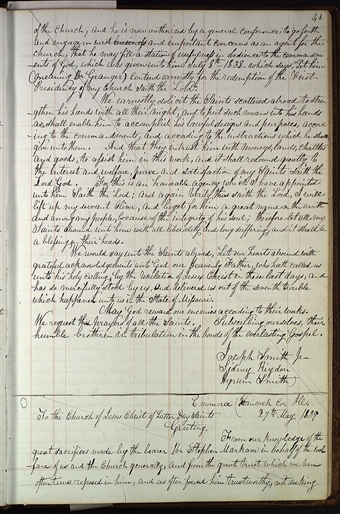 Hancock Co. Ill.
To the Church of Jesus Christ of Latter Day Saints
Greeting
From our knowledge of the great sacrifices made by the bearer Br in behalf of the welfare of us and the Church generally, And from the great trust which we have often times reposed in him, and as often found him trustworthy, not seeking [p. 46]
Hancock Co. Ill.
27th May 1839
To the Church of Jesus Christ of Latter Day Saints
Greeting
From our knowledge of the great sacrifices made by the bearer Br in behalf of the welfare of us and the Church generally, And from the great trust which we have often times reposed in him, and as often found him trustworthy, not seeking [p. 46]