Home

>
Certification of Deed, 8 May 1843
Source Note

on behalf of Ethan Kimball, Deed for property in , Hancock Co., IL, to Eli Houghton, 12 Apr. 1843; printed form with manuscript additions in handwriting of ; certified by , 12 Apr. 1843; dockets in unidentified handwriting; certified by on behalf of JS, 8 May 1843; notations in handwriting of ; two pages; Hiram Kimball Collection, CHL.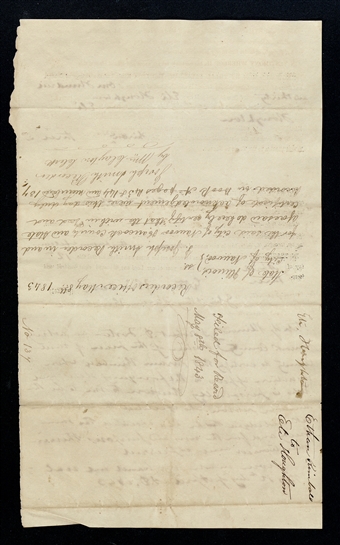 Recorders Office May 8
th

.
1843
State of Illinois)
ss.
City of )
I, Joseph Smith Recorder in and for the said city of and aforesaid do hereby certify that the within Deed and certificate of acknowledgement were this day duly Recorded in Book A pages 143 & 144 and numbered 137
Joseph Smith Recorder,
by Clerk
Eli Houghton
Filed for Record May 8
th

.
1843
No 137
Ethan Kimball to Eli Houghton [p. [2]]
Recorders Office May 8
th
. 1843
State of Illinois)
ss.
City of )
I, Joseph Smith Recorder in and for the said city of and aforesaid do hereby certify that the within Deed and certificate of acknowledgement were this day duly Recorded in Book A pages 143 & 144 and numbered 137
Joseph Smith Recorder,
by Clerk
Eli Houghton
Filed for Record May 8
th
. 1843
No 137
Ethan Kimball to Eli Houghton [p. [2]]