Home

>
Conversations with Robert Matthews, 9–11 November 1835
Source Note

JS, Conversations with , [, Geauga Co., OH], 9–11 Nov. 1835. Featured version copied [ca. 11 Nov. 1835] in

JS, Journal, 1835–1836, pp. 22–29

; handwriting of ; JS Collection, CHL. For more complete source information, see the source note for

JS, Journal, 1835–1836

.

Historical Introduction

, also known as Joshua the Jewish minister or the Prophet Matthias, visited , Ohio, and conversed with JS from 9 to 11 November 1835. In the early 1820s, Matthews proclaimed himself an Israelite, temporarily identified himself with the Zionist movement of Manuel Mordecai Noah, and came to reject Christianity. In , New York, in 1830 and in , New York, in 1831, Matthews launched his career as a religious figure, calling himself the Prophet Matthias, and sought to win over recent converts of Charles G. Finney's revivals. In 1832, Matthews gained a small following and converted Elijah Pierson, a man of wealth who in February 1830 had organized an independent Christian perfectionist church on Bowery Hill in . Pierson died from an apparent poisoning in early August 1834, and Matthews, who claimed ownership over Pierson's property following his death, was charged with murder. Matthews was acquitted of that charge, but immediately after the acquittal he was tried and sentenced to three months in jail for beating his adult daughter and obtaining money under false pretenses; thirty days were added to his sentence for contempt of court. Suffering from internal dissension, compounded by the public spectacle and press coverage of the trials and Matthews's four-month incarceration, his religious experiment in crumbled in 1835.

Three months after his release from jail in in August 1835, was reported to be traveling in . The 5 November issue of the

Western Reserve Chronicle

detailed Matthews's travels in Ohio and noted that while in Warren, Ohio, Matthews "inquired the way to , where, perhaps, he has gone to join the 'democratic' community of Mormons, at ." Prior to Matthews's arrival in Kirtland, the

Painesville Telegraph

also notified the Geauga County community of his presence, publishing two articles that labeled him as a deluded religious fraud.

On the morning of 9 November, , calling himself "Joshua the Jewish minister," arrived at the home of JS in . JS did not initially recognize him as the notorious figure Matthias, and Matthews's visit prompted him to relate the "circumstances connected with the coming forth of the

book of Mormon

," including an account of his first vision of Deity. The narrative JS presented to Matthews, one of the few early written accounts of this vision, expands upon some of the details found in JS's circa summer 1832

history

, which is the earliest extant account of JS's first vision. In his telling of the event to Matthews, JS included details such as the presence of "two personages" as well as "many angels" in the "silent grove." The narrative also provides an account of the visit he received in 1823 from an "Angel," later identified as Moroni, who described "a sacred record which was written on plates of gold," and it gives the timeline for JS's obtaining of the plates.

JS hosted for the next two days and invited him to expound on his religious views, but he ultimately denounced his visitor and told him to leave. Nevertheless, regional newspapers reported on the visit of Matthews and JS and claimed that the two were joining forces. The

Daily Cleveland Herald

stated, "The impostor who lately figured so conspicuously in the city of , has turned Mormon; and, as we learn from the Chardon Spectator, is now at in that county, in high favor with the prophet

Joe Smith

." The

Ohio Repository,

published in Canton, noted that "eastern papers state this impostor has taken up his abode among the Mormons, on the borders of the Lake, in this —and that both himself and his doctrines are received with great favor by them." More aligned with JS's journal account, the

Painesville Telegraph

reported a much less favorable interaction between JS and Matthews. In an article titled "Prophet Catch Prophet," the

Telegraph

stated, "The notorious impostor Matthias has performed a pilgrimage to the temple of the equally notorious Joe Smith, where he held forth his doctrines last week. It appears that the new pretender met with less encouragement than he anticipated from the Latter-Day-ites, and after a two days conference the

Prophets

parted, each declaring he had miraculously discerned a devil in the other!" By the end of November 1835, the

New York Herald

informed its readers that "Matthias has not joined the Mormons" but added sarcastically that "if they have pretty women among them no doubt he will." No interaction between JS and Matthews after 11 November 1835 is known, though a July 1837 report in the

Baltimore Gazette and Daily Advertiser

noted that Matthews was back in northeastern Ohio "to regulate the Mormonites, at , and spread his new doctrines among the benighted of the west."

's visit to JS was recorded in JS's journal by . Residue from an adhesive wafer at the top of page 25 of JS's 1835–1836 journal—as well as some paper residue still stuck to the wafer residue—indicates that a loose leaf had been attached in the journal and suggests that part of the entry for 9–11 November 1835 was probably copied into the journal from an earlier manuscript, which is no longer extant.

Footnotes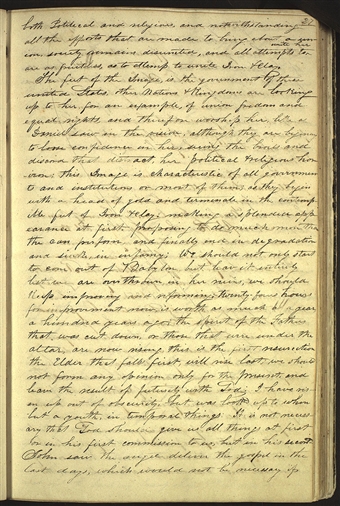 both Political and religious, and notwithstanding all the efforts that are made to bring about a union, society
is
remains disunited, and all attempts to <​unite her​> are as fruitless, as to attemp to unite Iron & Clay.
The feet of the Image, is the government of these , other Nations & kingdoms are looking up to her for an example, of union fredom and equal rights, and therefore worship her, like as Daniel saw in the vision, although they are begining to loose confidence in her, seeing the broils and discord that distract, her political & religious horizon this Image is characteristic of all governments and institutions or most of them; as they begin with a head of gold and terminate in the contemp[t]ible feet of Iron & clay: making a splendid appearance at first, proposing to do much more than the[y] can perform, and finally end in degradation and sink, in infamy; we should not only start to come out of Babylon but leav it entirely lest we are overthrown in her ruins, we should keep improving and reforming, twenty-fours hours for improvement now is worth as much as a year a hundred years ago; the spirit of the Fathers that was cut down, or those that were under the altar, are now rising this is the first resurection the Elder that fall's first will rise last; we should not form any opinion only for the present, and leave the result of futurity with God: I have risen up out of obscurity, but was look
d.
up to when but a youth, in temporal things: It is not necessary that God should give us all things at first or in his first commission to us, but in his second. John saw the angel deliver the gospel in the last days, which would not be necessary if [p. 27]
both Political and religious, and notwithstanding all the efforts that are made to bring about a union, society remains disunited, and all attempts to unite her are as fruitless, as to attemp to unite Iron & Clay.
The feet of the Image, is the government of these , other Nations & kingdoms are looking up to her for an example, of union fredom and equal rights, and therefore worship her, like as Daniel saw in the vision, although they are begining to loose confidence in her, seeing the broils and discord that distract, her political & religious horizon this Image is characteristic of all governments and institutions or most of them; as they begin with a head of gold and terminate in the contemptible feet of Iron & clay: making a splendid appearance at first, proposing to do much more than they can perform, and finally end in degradation and sink, in infamy; we should not only start to come out of Babylon but leav it entirely lest we are overthrown in her ruins, we should keep improving and reforming, twenty-fours hours for improvement now is worth as much as a year a hundred years ago; the spirit of the Fathers that was cut down, or those that were under the altar, are now rising this is the first resurection the Elder that fall's first will rise last; we should not form any opinion only for the present, and leave the result of futurity with God: I have risen up out of obscurity, but was lookd. up to when but a youth, in temporal things: It is not necessary that God should give us all things at first or in his first commission to us, but in his second. John saw the angel deliver the gospel in the last days, which would not be necessary if [p. 27]