Home

>
Deed to Sally Murdock, 23 November 1843
Source Note

JS as trustee-in-trust for the Church of Jesus Christ of Latter-day Saints, Deed for property in , IL, to Sally Murdock, 23 Nov. 1843; printed form with manuscript additions in handwriting of ; signature of JS; witnessed by ; certified by , 25 Nov. 1843; certified by , 30 Dec. 1843; docket in handwriting of ; notation in unidentified handwriting; two pages; Nymphas C. Murdock Collection, CHL.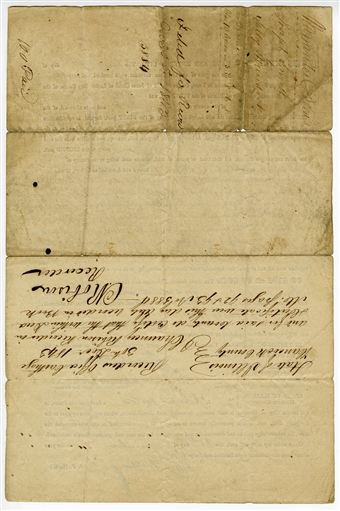 State of Illinois)
)
Recorders Office
I Recorder in and for said do certify that the within Deed & Certificate were this day duly recorded in Book M, pages 92 & 93. No 5884—
Recorder
Warrantee Deed
Joseph Smith to Sally Murdock
For 25 acres in N. W.
◊◊◊
Also 10 Acres in S. E. 8–6–8
Filed for Recrd. Dec 30
th
1843
5884
100 Paid [p. [2]]
State of Illinois)
)
Recorders Office
I Recorder in and for said do certify that the within Deed & Certificate were this day duly recorded in Book M, pages 92 & 93. No 5884—
Recorder
Warrantee Deed
Joseph Smith to Sally Murdock
For 25 acres in N. W. Also 10 Acres in S. E. 8–6–8
Filed for Recrd. Dec 30th 1843
5884
100 Paid [p. [2]]