Discourse, 16 June 1844–A, as Reported by William McIntire
Source Note

JS, Discourse, [, Hancock Co., IL], 16 Jun 1844; in William P. McIntire, Notebook, p. [21]; handwriting of ; CHL.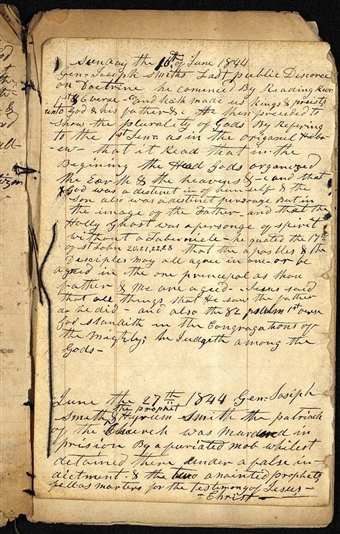 Sunday the 16
th.
of June 1844
Gen.— Joseph Smiths Last public Discorce on Doctrine he comenced By Reading Rev. 1
st
& 6 verse— "and hath made us kings & preists unto God & his father &c
the
He then prceeded to show the plurality of Gods By Refering to the 1
st
Jen— as in the origanil Hebrew— that it Read that in the Beginning the Head Gods organized the Earth & the heavens &—c that God was a distinct in of himself & the Son also was a distinct personage But in the image of the Father— and that the Holly Ghost was a personage of spirit without a Tabernicle— he quoted the 17
th

.
of st John 20, 21, 22, 23 that the apostles & the Desciples may all agree in one— or be agreed in the one principal as thou father & Me are agred— — Jesus said that all things that He saw the father do he did— and also the 82 psalm 1
st
verse God standith in the Congragations of the Mighty; he Judgeth among the Gods— [p. [21]]
Sunday the 16th. of June 1844
Gen.— Joseph Smiths Last public Discorce on Doctrine he comenced By Reading Rev. 1st & 6 verse— "and hath made us kings & preists unto God & his father &c He then prceeded to show the plurality of Gods By Refering to the 1st Jen— as in the origanil Hebrew— that it Read that in the Beginning the Head Gods organized the Earth & the heavens &—c that God was a distinct in of himself & the Son also was a distinct personage But in the image of the Father— and that the Holly Ghost was a personage of spirit without a Tabernicle— he quoted the 17
th
. of st John 20, 21, 22, 23 that the apostles & the Desciples may all agree in one— or be agreed in the one principal as thou father & Me are agred— — Jesus said that all things that He saw the father do he did— and also the 82 psalm 1st verse God standith in the Congragations of the Mighty; he Judgeth among the Gods— [p. [21]]