Discourse, 16 June 1844–A, as Reported by Thomas Bullock
Source Note

JS, Discourse, [, Hancock Co., IL], 16 Jun 1844; handwriting of ; five pages; JS Collection, CHL.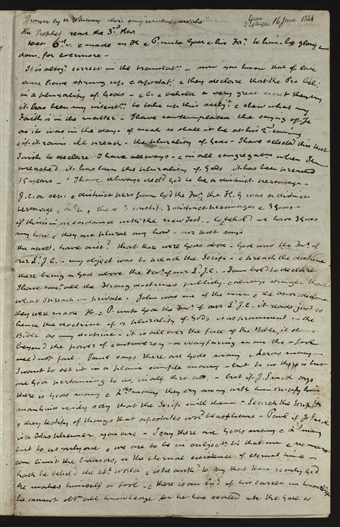 E of 16 June 1844
Prayer by choir sung "mortals awake"
The Prophet read the 3
rd.
Rev.
text 6
th.
v. & made us K[ings] & P[riests] unto God & his Fa
r.
to him be glory & dom[inion] for evermore—
It is altog
r.
correct in the translat
n.
— now you know that of late some have sprung up & apostat
[d].
& they declare that the Pro[phet] bel[ieve]
[s].
in a plurality of Gods— &
c.
& behold a very great secret they cry it has been my intent
n.
to take up this subj'
t.
& shew what my Faith is in the matter— I have contemplated the saying of Je as it was in the days of Noah so shall it be at his 2
nd.
coming & if it rains I'll preach— the plurality of Gods— I have selected this text I wish to declare I have allways— & in all congregat
ns.
when I have preached it has been the plurality of Gods it has been preached 15 years— I have always decl
d.
God to be a distinct personage— J[esus] C[hrist] a sep. & distinct pers from God the Fa
r.
, the H[oly] G[host] was a distinct personage & a Sp[irit] & these 3 constit. 3 distinct personages & 3 Gods— if this is in accordance with the new Test.— lo <​&​> behold we have 3 Gods any how & they are plural any how— our text says the apost. have disc
d.
that there were Gods above— God was the Fa
r.
of our L
d.
J. C.— my object was to preach the Scrip— & preach the doctrine there being a God above the Fa
r.
of our L
d.
J. C.— I am bold to declare I have tau
t.
all the strong doctrines publicly— & always stronger than what I preach in private— John was one of the men & the apos. declared they were made K & P unto God the Fa
r.
of our L
d.
J. C. it reads just so hence the doctrine of a plurality of Gods is as prominent in the Bible as any doctrine— it is all over the face of the Bible, it stands beyond the power of controversy— a wayfaring man tho a fool need not fail— Paul says there are Gods many & Lords many— I want to set it in a plain simple man[n]er— but to us there is but one God pertaining to us, in all thro all,— but if J. Smith says there is Gods many & L
ds.
many they cry away with him crucify him mankind verily say that the Scrip [i]s with them— Search the Script & & they testify of things that apostates wo
d.
blaspheme — Paul[,] if Jo Smith is a blasphemer you are— I say there are Gods many & L
ds.
many but to us only one & we are to be in subjec
tn.
to that one & no man can limit the bounds, or the eternal existence of eternal time— hath he beheld the et
l.
world & is he auth
d.
to say that there is only God he makes himself a fool— & there is an end of his career in knowledge he cannot obt
n.
all knowledge for he has sealed up the Gate to [p. [1]]
E of 16 June 1844
Prayer by choir sung "mortals awake"
The Prophet read the 3rd. Rev.
text 6th. v. & made us Kings & Priests unto God & his Far. to him be glory & dominion for evermore—
It is altogr. correct in the translatn.— now you know that of late some have sprung up & apostat[d]. & they declare that the Prophet believe[s]. in a plurality of Gods— &c. & behold a very great secret they cry it has been my intentn. to take up this subj't. & shew what my Faith is in the matter— I have contemplated the saying of Je as it was in the days of Noah so shall it be at his 2nd. coming & if it rains I'll preach— the plurality of Gods— I have selected this text I wish to declare I have allways— & in all congregatns. when I have preached it has been the plurality of Gods it has been preached 15 years— I have always decld. God to be a distinct personage— Jesus Christ a sep. & distinct pers from God the Far., the Holy Ghost was a distinct personage & a Spirit & these 3 constit. 3 distinct personages & 3 Gods— if this is in accordance with the new Test.— lo & behold we have 3 Gods any how & they are plural any how— our text says the apost. have discd. that there were Gods above— God was the Far. of our Ld. J. C.— my object was to preach the Scrip— & preach the doctrine there being a God above the Far. of our Ld. J. C.— I am bold to declare I have taut. all the strong doctrines publicly— & always stronger than what I preach in private— John was one of the men & the apos. declared they were made K & P unto God the Far. of our Ld. J. C. it reads just so hence the doctrine of a plurality of Gods is as prominent in the Bible as any doctrine— it is all over the face of the Bible, it stands beyond the power of controversy— a wayfaring man tho a fool need not fail— Paul says there are Gods many & Lords many— I want to set it in a plain simple manner— but to us there is but one God pertaining to us, in all thro all,— but if J. Smith says there is Gods many & Lds. many they cry away with him crucify him mankind verily say that the Scrip [i]s with them— Search the Script & & they testify of things that apostates wod. blaspheme — Paul, if Jo Smith is a blasphemer you are— I say there are Gods many & Lds. many but to us only one & we are to be in subjectn. to that one & no man can limit the bounds, or the eternal existence of eternal time— hath he beheld the etl. world & is he authd. to say that there is only God he makes himself a fool— & there is an end of his career in knowledge he cannot obtn. all knowledge for he has sealed up the Gate to [p. [1]]