Home

>
Discourse, 16 June 1844–A, as Reported by Thomas Bullock
Source Note

JS, Discourse, [, Hancock Co., IL], 16 Jun 1844; handwriting of ; five pages; JS Collection, CHL.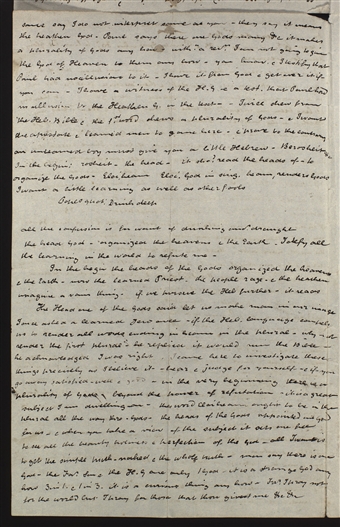 some say I do not interpret same as you— they say it means the heathen God— Paul says there are Gods many &c it makes a plurality of Gods any how— with[ou]
t.
a rev[elatio]
n.
I am not going to give the God of Heaven to them any how— you know & I testify that Paul had no allusions to it— I have it from God & get over it if you can— I have a witness of the H. G— & a test[imony] that Paul had no allusion to the Heathen G. in the text
——
I will shew from the Heb. Bible & the 1
st.
word shews a plurality of Gods— & I want the apostate & learned men to come here— & prove to the contrary an unlearned boy must give you a little Hebrew— Berosheit &c In the begin[ning]: rosheit— the head— it sho[ul]
d.
read the heads of— to organize the Gods— Eloi, heam Eloi. God is sing[ular] heam, renders Gods I want a little learning as well as other fools
Popes [Alexander Pope's] quot: Drink deep
all the confusion is for want of drinking ano[the]
r.
draught the head God— organized the heavens & the Earth— I defy all the learning in the world to refute me—
In the begin the heads of the Gods organized the heavens & the Earth— now the learned Priest— the people rage— & the heathen imagine a vain thing— if we pursue the Heb further— it reads
The Head one of the Gods said let us make man in our image I once asked a learned Jew once— if the Heb. language compels us to render all words ending in heam in the plural— why not render the first plural— he replied it would ruin the Bible— he acknowledged I was right, I came here to investigate these things precisely as I believe it— hear & judge for yourself— & if you go away satisfied— well & good— in the very beginning there is a plurality of Gods— beyond the power of refutation— it is a great subject I am dwelling— on— the word Eloiheam ought to be in the plural all the way thro— Gods— the heads of the Gods appointed one God for us— & when you take a view of the subject it sets one free to see all the beauty holiness & perfection of the God— all I want is to get the simple truth— naked & the whole truth— men say there is one God— the Fa
r.
Son & the H. G are only 1 God— it is a strange God any how 3 in 1. & 1 in 3. it is a curious thing any how— Fa
r.
I pray not for the world but I pray for those that thou givest me &c &c [p. [2]]
some say I do not interpret same as you— they say it means the heathen God— Paul says there are Gods many &c it makes a plurality of Gods any how— without. a revelation. I am not going to give the God of Heaven to them any how— you know & I testify that Paul had no allusions to it— I have it from God & get over it if you can— I have a witness of the H. G— & a testimony that Paul had no allusion to the Heathen G. in the text
——
I will shew from the Heb. Bible & the 1st. word shews a plurality of Gods— & I want the apostate & learned men to come here— & prove to the contrary an unlearned boy must give you a little Hebrew— Berosheit &c In the beginning: rosheit— the head— it should. read the heads of— to organize the Gods— Eloi, heam Eloi. God is singular heam, renders Gods I want a little learning as well as other fools
Popes Alexander Pope's quot: Drink deep
all the confusion is for want of drinking another. draught the head God— organized the heavens & the Earth— I defy all the learning in the world to refute me—
In the begin the heads of the Gods organized the heavens & the Earth— now the learned Priest— the people rage— & the heathen imagine a vain thing— if we pursue the Heb further— it reads
The Head one of the Gods said let us make man in our image I once asked a learned Jew once— if the Heb. language compels us to render all words ending in heam in the plural— why not render the first plural— he replied it would ruin the Bible— he acknowledged I was right, I came here to investigate these things precisely as I believe it— hear & judge for yourself— & if you go away satisfied— well & good— in the very beginning there is a plurality of Gods— beyond the power of refutation— it is a great subject I am dwelling— on— the word Eloiheam ought to be in the plural all the way thro— Gods— the heads of the Gods appointed one God for us— & when you take a view of the subject it sets one free to see all the beauty holiness & perfection of the God— all I want is to get the simple truth— naked & the whole truth— men say there is one God— the Far. Son & the H. G are only 1 God— it is a strange God any how 3 in 1. & 1 in 3. it is a curious thing any how— Far. I pray not for the world but I pray for those that thou givest me &c &c [p. [2]]