Home

>
Discourse, 16 May 1841, as Reported by William Clayton
Source Note

JS, Discourse, [, Hancock Co., IL], 16 May 1841. Version from report copied [1880] in L. John Nuttall, Notebook, pp. 9–10; handwriting of L. John Nuttall; L. John Nuttall, Papers, BYU. For more complete source information, see the source note for

Discourse, Dec. 1840, as Reported by William Clayton

.

Historical Introduction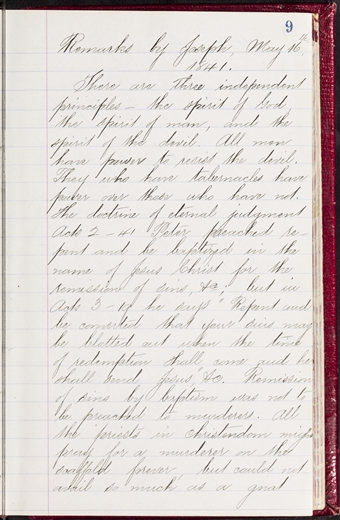 Remarks by Joseph, May 16
th
, 1841.
There are three independent principles— the spirit of God, the spirit of man, and the spirit of the devil. All men have power to resist the devil. They who have tabernacles have power over those who have not. The doctrine of eternal judgment Acts 2— 41 Peter preached repent and be in the name of Jesus Christ for the remission of sins, &
c
; but in Acts 3— 19 he says "Repent and be converted that your sins may be blotted out when the time of redemption shall come and he shall send Jesus," &c. Remission of sins by baptism was not to be preached to murderers. All the priests in Christendom might pray for a murderer on the scaffold forever, but could not avail so much as a gnat [p. 9]
Remarks by Joseph, May 16
th
, 1841.
There are three independent principles— the spirit of God, the spirit of man, and the spirit of the devil. All men have power to resist the devil. They who have tabernacles have power over those who have not. The doctrine of eternal judgment Acts 2— 41 Peter preached repent and be in the name of Jesus Christ for the remission of sins, &
c
; but in Acts 3— 19 he says "Repent and be converted that your sins may be blotted out when the time of redemption shall come and he shall send Jesus," &c. Remission of sins by baptism was not to be preached to murderers. All the priests in Christendom might pray for a murderer on the scaffold forever, but could not avail so much as a gnat [p. 9]