Home

>
Discourse, 26 May 1844, as Compiled by Leo Hawkins
Source Note

JS, Discourse, , Hancock Co., IL, 26 May 1844; handwriting of with insertions by and Jonathan Grimshaw; dockets in handwriting of Robert L. Campbell and Jonathan Grimshaw; nine pages; JS Collection, CHL.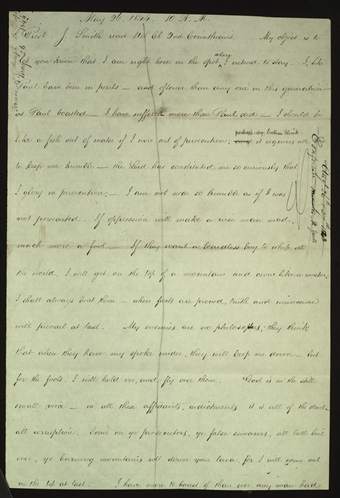 Sermon of Joseph the Proph[et]
May 26 1844
May 26. 1844. 10 A.M.
Pres
t.
J. Smith read 11th Ch 2nd Corinthians. My object is to let you know that I am right here on the spot <​where​> I intend to stay. I, like Paul have been in perils— and oftener than any one in this generation— as Paul boasted— I have suffered more than Paul did— I should be like a fish out of water if I were out of persecution;
and
<​perhaps my brethren think​> it requires all this to keep me humble— the Lord has constituted me so curiously that I glory in persecution;— I am not near so humble as if I was not persecuted. If oppression will make a wise man mad, much more a fool.— If they want a beardless boy to whip all the world, I will get on the top of a mountain and crow like a rooster; I shall always beat them— when facts are proved, truth and innocence will prevail at last. My enemies are no philosophers; they think that when they have my spoke under, they will keep me down— but for the fools, I will hold on, and fly over them. God is in the still small voice— in all these affidavits, indictments it is all of the devil— all corruption. Come on ye prosecutors, ye false swearers, all hell boil over, ye burning mountains roll down your lava, for I will come out on the top at last. I have more to boast of than ever any man had [p. [1]]
Sermon of Joseph the Prophet
May 26 1844
May 26. 1844. 10 A.M.
Prest. J. Smith read 11th Ch 2nd Corinthians. My object is to let you know that I am right here on the spot where I intend to stay. I, like Paul have been in perils— and oftener than any one in this generation— as Paul boasted— I have suffered more than Paul did— I should be like a fish out of water if I were out of persecution; perhaps my brethren think it requires all this to keep me humble— the Lord has constituted me so curiously that I glory in persecution;— I am not near so humble as if I was not persecuted. If oppression will make a wise man mad, much more a fool.— If they want a beardless boy to whip all the world, I will get on the top of a mountain and crow like a rooster; I shall always beat them— when facts are proved, truth and innocence will prevail at last. My enemies are no philosophers; they think that when they have my spoke under, they will keep me down— but for the fools, I will hold on, and fly over them. God is in the still small voice— in all these affidavits, indictments it is all of the devil— all corruption. Come on ye prosecutors, ye false swearers, all hell boil over, ye burning mountains roll down your lava, for I will come out on the top at last. I have more to boast of than ever any man had [p. [1]]