Home

>
Discourse, between circa 26 June and circa 2 July 1839, as Reported by Willard Richards
Source Note

JS, Discourse, , Hancock Co., IL, [between 26 June and 2 July 1839]. Version copied [between 13 Jan. 1840 and 20 Apr. 1841] in Willard Richards, "W. Richards Pocket Companion Written in England," pp. 15–22; handwriting of ; Willard Richards, Journals and Papers, CHL. For more complete source information, see the source note for

Discourse, between ca. 26 June and ca. 4 Aug. 1839–A, as Reported by Willard Richards

.

Historical Introduction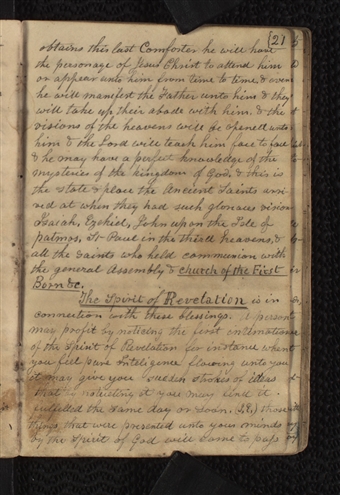 obtains this last Comforter he will have the personage of Jesus Christ to attend him or appear unto him from time to time. & even he will manifest the Father unto him & they will take up their abode with him, & the visions of the heavens will be opened unto him & the Lord will teach him face to face & he may have a perfect knowledge of the mysteries of the kingdom of God. & this is the state & place the Ancient Saints arrived at when they had such glorious vision Isaiah, Ezekiel, John upon the Isle of
patmos
, St Paul in the third heavens, & all the saints who held communion with the general Assembly &
&c
.
The Spirit of Revelation
is in connection with these blessings. A person may profit by noticing the first intimation of the Spirit of Revelation for instance when you feel pure Inteligence flowing unto you it may give you sudden strokes of ideas that by noticeting it you may find it fulfilled the same day or soon. (I,E,) those things that were presented unto your minds by the Spirit of God will come to pass [p. 21]
obtains this last Comforter he will have the personage of Jesus Christ to attend him or appear unto him from time to time. & even he will manifest the Father unto him & they will take up their abode with him, & the visions of the heavens will be opened unto him & the Lord will teach him face to face & he may have a perfect knowledge of the mysteries of the kingdom of God. & this is the state & place the Ancient Saints arrived at when they had such glorious vision Isaiah, Ezekiel, John upon the Isle of
patmos
, St Paul in the third heavens, & all the saints who held communion with the general Assembly &
&c
.
The Spirit of Revelation
is in connection with these blessings. A person may profit by noticing the first intimation of the Spirit of Revelation for instance when you feel pure Inteligence flowing unto you it may give you sudden strokes of ideas that by noticeting it you may find it fulfilled the same day or soon. (I,E,) those things that were presented unto your minds by the Spirit of God will come to pass [p. 21]