Home

>
Docket Entry, Costs, circa 25 October 1837 [Rounds qui tam v. Rigdon]
Source Note

Docket Entry, Costs, [, Geauga Co., OH], ca. 25 Oct. 1837,

Rounds qui tam v. Rigdon

, (Geauga Co., OH, Court of Common Pleas 1837); Geauga County Court of Common Pleas, Execution Docket, vol. G, p. 106; handwriting of and unidentified scribe, possibly Charles H. Foot; Geauga County Archives and Records Center, Chardon, OH.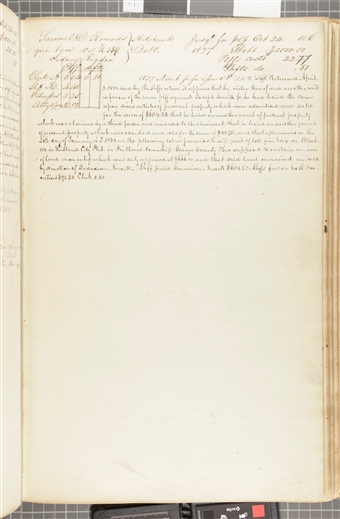 | | |
| --- | --- |
| ) | |
| qui. tam vs U. 359.) | Debt. |
| ) | |
Judg[men]

t.

for . Oct 24. 1837
Debt
$1000.00
s costs

22.44

22.77
s do.
.81
| | | |
| --- | --- | --- |
| | | . |
| | 5 04 | 0 81 |
| | 4 48 | |
| Witnesses | 2 25 | |
| Att[orne]y & Jury | 11 00 | |
1837 Nov. 6 fi. fa. [fieri facias] issued & dd to . Returned April 3, 1838 and by the s return it appears that by virtue thereof and another writ in favour of the same against Joseph Smith Jr., he had levied the same upon divers articles of personal property which were advertised and sold for the sum of $604.50; that he levied on another parcel of personal property which was claimed by a third person and awarded to the claimant; that he levied on another parcel of personal property which was advertised and sold for the sum of $111.75; and that afterwards on the 20th day of January A.D. 1838 on the following lots or premises to wit, part of lots five & six on Block 114 in City Plat in Geauga County Ohio supposed to contain one acre of land more or less which was duly appraised at $666.00 and that said land remained unsold by direction of — . paid $604.50— s fees on both Executions $91.50. 0.50 [p. 106]
| | |
| --- | --- |
| ) | |
| qui. tam vs U. 359.) | Debt. |
| ) | |
Judgment. for . Oct 24. 1837
Debt
$1000.00
s costs
22.77
s do.
.81
| | | |
| --- | --- | --- |
| | | . |
| | 5 04 | 0 81 |
| | 4 48 | |
| Witnesses | 2 25 | |
| Attorney & Jury | 11 00 | |
1837 Nov. 6 fi. fa. [fieri facias] issued & dd to . Returned April 3, 1838 and by the s return it appears that by virtue thereof and another writ in favour of the same against Joseph Smith Jr., he had levied the same upon divers articles of personal property which were advertised and sold for the sum of $604.50; that he levied on another parcel of personal property which was claimed by a third person and awarded to the claimant; that he levied on another parcel of personal property which was advertised and sold for the sum of $111.75; and that afterwards on the 20th day of January A.D. 1838 on the following lots or premises to wit, part of lots five & six on Block 114 in City Plat in Geauga County Ohio supposed to contain one acre of land more or less which was duly appraised at $666.00 and that said land remained unsold by direction of — . paid $604.50— s fees on both Executions $91.50. 0.50 [p. 106]