Grammar and Alphabet of the Egyptian Language, circa July–circa November 1835
Source Note

Grammar and Alphabet of the Egyptian Language, [, OH, ca. July–ca. Nov. 1835]; handwriting of and ; 34 pages; Kirtland Egyptian Papers, CHL.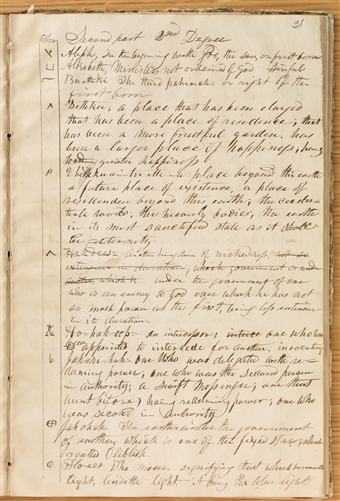 Char

H

Aleph, In the begining with God, the son, or first born

H

Alkobeth, Ministers not ordained of God Sinful

H

Baethki The third patriarch: or right of the first born

H

Bethkee; a place that has been e[n]larged that has been a place of residence; that has been a more fruitful garden. has been a larger place of happiness; hav[in]g had greater happiness

H

Ebethkeeaimtriethe— a place beyond this earth a future place of existence, a place of residenden beyond this earth; the cecelestiale world; the heavenly bodies; the earth in its most sanctified state as it shall be= eternity.

H

Hahdees= Another kingdom of wickedness,

not so extensive in duration

,

whos

which government is under another, which th under the government of one who is an enemy to God over which he has not so much power as the first, being less entensive— in its duration.

H

Ho=hah=oop=— An intercessor;

interce

one who <​has been​>

is

appointed to intercede for another; invocation;

H

Jah=ni-hah= one who was delegated with redeeming power; one who was the second person in authority; a swift messenger; one that went before; having redeeming power; one who was second in authority

H

Jahoheh— The earth under the government of another, which is one of the fixed stars; which is called Oliblish.

H

Flo=ees The moon, signifying that which boroweth light, lendeth light, it being the lesser light.
[p. 31]
Second part 2nd Degree
| | | |
| --- | --- | --- |
| | Char | |
| | H | Aleph, In the begining with God, the son, or first born |
| | H | Alkobeth, Ministers not ordained of God Sinful |
| | H | Baethki The third patriarch: or right of the first born |
| | H | Bethkee; a place that has been enlarged that has been a place of residence; that has been a more fruitful garden. has been a larger place of happiness; having had greater happiness |
| | H | Ebethkeeaimtriethe— a place beyond this earth a future place of existence, a place of residenden beyond this earth; the cecelestiale world; the heavenly bodies; the earth in its most sanctified state as it shall be= eternity. |
| | H | Hahdees= Another kingdom of wickedness, , under the government of one who is an enemy to God over which he has not so much power as the first, being less entensive— in its duration. |
| | H | Ho=hah=oop=— An intercessor; one who has been appointed to intercede for another; invocation; |
| | H | Jah=ni-hah= one who was delegated with redeeming power; one who was the second person in authority; a swift messenger; one that went before; having redeeming power; one who was second in authority |
| | H | Jahoheh— The earth under the government of another, which is one of the fixed stars; which is called Oliblish. |
| | H | Flo=ees The moon, signifying that which boroweth light, lendeth light, it being the lesser light. |
[p. 31]