Home

>
Instruction on Priesthood, circa 5 October 1840
Source Note

JS, Instruction on Priesthood, [, Hancock Co., IL], ca. 5 Oct. 1840; handwriting of ; ten pages; JS Collection, CHL. Includes dockets.

Ten leaves, each measuring 10 × 8 inches (25 × 20 cm). Eight of the leaves are green; two are yellow. The text was inscribed on the versos of blank forms, five of which bear certificates with the printed notation "Kirtland, [

blank

], 1837. Treasurer of the Kirtland Safety Society Anti-Banking Co. pay [

blank

] or bearer, [

blank

] dollars." The versos of the other five leaves contain certificates with the printed notation "Kirtland, [

blank

] 1837. [

blank

] days after date, we jointly and severally promise to pay [

blank

] or order, [

blank

] Dollars, value received." The leaves were folded for filing.

The document was docketed by , who began serving as a scribe to JS in 1843, and also by . It is listed in the Historian's Office inventory, circa 1904. Between 1974 and 1984, it was included in the JS Collection (Supplement). The dockets and inventory suggest continuous institutional custody since the document's creation.

Footnotes

1

"Index to Papers in the Historian's Office," ca. 1904, draft, 5; "Index to Papers in the Historian's Office," ca. 1904, 5, Historian's Office, Catalogs and Inventories, 1846–1904, CHL; see also the full bibliographic entry for JS Collection (Supplement), 1833–1844, in the CHL catalog. The circa 1904 Historian's Office inventories listed this item as "Priesthood: And investigation of from scriptures (book C. pp. 16, 17, and 18. addenda)," indicating that it had been transcribed into the multivolume manuscript history of the church. (See JS History, vol. C-1, addenda, 16–18.)  

Historian's Office. Catalogs and Inventories, 1846–1904. CHL. CR 100 130.

Historical Introduction

This instruction on was read by on 5 October 1840 during a morning session of the general held from 3 to 5 October in , Illinois. Thompson presented it as "an article on the priesthood, composed by Joseph Smith jr." later remembered witnessing JS dictate the statement specifically for presentation at the October conference, meaning JS likely composed the document shortly before Thompson read it on 5 October. According to Coray, JS dictated it after unsuccessfully "examining or hunting in the manuscript of the new translation of the Bible for something on Priesthood." Coray recalled that JS gave the instruction during a revelatory moment in which "the Spirit of God descended upon him [JS], and a measure of it upon me, insomuch that I could fully realize that God, or the Holy Ghost, was talking through him."

This instruction built on earlier revelations and statements about the priesthood. Echoing an 1832

revelation

, as well as

instruction

JS prepared with the probable assistance of in 1835, the document briefly described the two major divisions of the priesthood: the and the . In summer 1839, JS preached a sermon that covered a number of similar themes, discussing the division of time into and stating that Old Testament figures, such as Adam and Elijah, would help restore priesthood authority in a final dispensation in the last days. In that sermon, JS argued that the renewal of ancient ceremonies would accompany the restoration of priesthood authority. In this circa 5 October 1840 instruction, JS stated that even animal sacrifice, as practiced in the Old Testament, would be restored in the last days, in keeping with biblical prophecy.

JS also instructed the Saints on the doctrine of translation—a power that enabled individuals to live in a transformed state of being until the second coming of Jesus Christ and that he said belonged to the Melchizedek Priesthood. The doctrine of translation was not unique to JS and his teachings. The basic concept is articulated in the New Testament's epistle to the Hebrews, which states that "by faith Enoch was translated that he should not see death." According to contemporary Methodist theologian Adam Clarke, this passage teaches that Enoch "did not die: and that God took him to a state of blessedness without obliging him to pass through death." JS diverged from such nineteenth-century theologians by teaching that translated beings served as "ministering angels Unto many planets" and by emphasizing these beings' connection to the priesthood. In addition to these themes, JS discussed the patriarchal nature of the priesthood, something that had also been discussed in earlier revelations and instructions.

According to the

minutes

of the 3–5 October 1840 general conference, made a few remarks before reading the instruction, which was then followed by further statements on the priesthood by . Thompson served as scribe for the instruction. The version featured here is probably not the original draft of JS's dictation, but it may have been the copy read at the conference.

Footnotes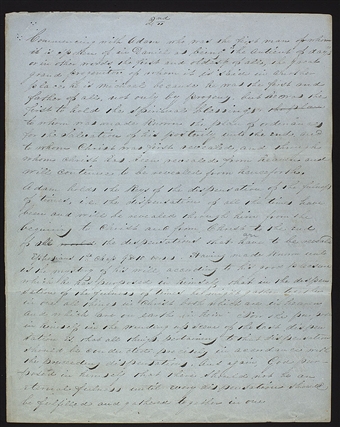 Commencing with Adam who was the first man
of
whom
it
is spoken of in Daniel as being "the Antient of days" or in other words the first and oldest of all, the great grand progenitor of whom it is said in another place he is michael because he was the first and father of all, not only by progeny, but he was the first to hold the spiritual blessings,
the plan
to whom was made known the plan of for the Salvation of his posterity unto the end, and to whom Christ was first revealed, and through whom christ has been revealed from heaven and will continue to be revealed from henceforth. Adam holds the of the , i.e. the dispensation of all the times have been and will be revealed through him from the beginning to Christ and from Christ to the end of
◊◊
all
world
the dispensations that have to be reveald
Ephesians 1
st.
chap 9 & 10 verses. ["]Having made known unto us the mystery of his will, according to his good pleasure which he has purposed in himself that in the dispensation of the fulness of times he might together in one all things in Christ both which are in heaven and which are on earth in him" Now the purpose in himself in the winding up scene of the last dispensation is, that all things pertaining to that dispensation should be conducted precisely in accordance with the preceeding dispensations, And again, God purposed in himself that there should not be an eternal fulness until every dispensation should be fulfilled and gathered together in one [p. 2]
Commencing with Adam who was the first man whom is spoken of in Daniel as being "the Antient of days" or in other words the first and oldest of all, the great grand progenitor of whom it is said in another place he is michael because he was the first and father of all, not only by progeny, but he was the first to hold the spiritual blessings, to whom was made known the plan of for the Salvation of his posterity unto the end, and to whom Christ was first revealed, and through whom christ has been revealed from heaven and will continue to be revealed from henceforth. Adam holds the of the , i.e. the dispensation of all the times have been and will be revealed through him from the beginning to Christ and from Christ to the end of all the dispensations that have to be reveald
Ephesians 1st. chap 9 & 10 verses. ["]Having made known unto us the mystery of his will, according to his good pleasure which he has purposed in himself that in the dispensation of the fulness of times he might together in one all things in Christ both which are in heaven and which are on earth in him" Now the purpose in himself in the winding up scene of the last dispensation is, that all things pertaining to that dispensation should be conducted precisely in accordance with the preceeding dispensations, And again, God purposed in himself that there should not be an eternal fulness until every dispensation should be fulfilled and gathered together in one [p. 2]