Home

>
Jacob B. Backenstos and Stephen A. Douglas, Affidavit, 4 January 1843 [Extradition of JS for Accessory to Assault]
Source Note

and , Affidavit, before , [, Sangamon Co., IL], 4 Jan. 1843,

Extradition of JS for Accessory to Assault

(United States Circuit Court for the District of IL 1843). Copied [6 Jan. 1843] in

Transcript of Proceedings, [27]–[28]

; handwriting of ; JS Collection, CHL.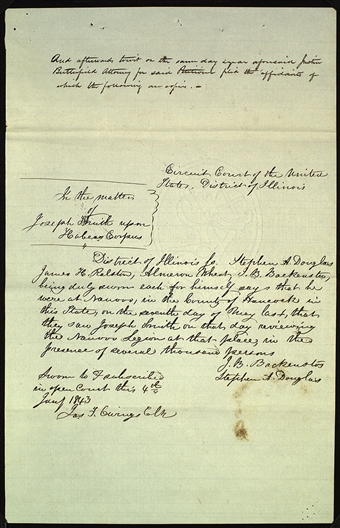 of the , District of
In the matter)
of)
Joseph Smith upon)
)
District of Ss. [scilicet] , , , being duly sw[o]rn each for himself says that he were at , in the County of in this , on the seventh day of May last, that they saw Joseph Smith on that day reviewing the Nauvoo Legion at that place, in the presence of several thousand persons
Sworn to & subscribed in open Court this 4
th.
Jan
y
1843
Clk [
8 lines blank
] [p. [27]]
of the , District of
In the matter)
of)
Joseph Smith upon)
)
District of Ss. [scilicet] , , , being duly sworn each for himself says that he were at , in the County of in this , on the seventh day of May last, that they saw Joseph Smith on that day reviewing the Nauvoo Legion at that place, in the presence of several thousand persons
Sworn to & subscribed in open Court this 4th. Jany 1843
Clk [
8 lines blank
] [p. [27]]