Home

>
Letter from Benjamin Winchester, 18 September 1841
Source Note

, Letter, , Philadelphia Co., PA, to JS, , Hancock Co., IL, 18 Sept. 1841; handwriting of ; four pages; JS Collection, CHL. Includes address, postal stamps, dockets, and notation.

Bifolium measuring 9⅝ × 7⅝ inches (24 × 19 cm). The letter was trifolded twice in letter style, then sealed with a red adhesive wafer, addressed, and stamped with postmarks. The letter was later refolded for filing and docketed. There is some wear and tear along the folds, and a small hole is visible on the second leaf. The second leaf bears residue from the red adhesive wafer used to seal the letter. A pamphlet, titled

An Address to the Citizens of Salem and Vicinity,

was originally enclosed with the letter. This pamphlet is no longer preserved with the letter; however, a

copy

of it is archived in the Church History Library.

Three dockets appear on the verso of the second leaf. , who served as JS's personal scribe beginning in late 1841, inscribed a docket on the letter in its original trifolded state. A graphite notation was later added, apparently by a clerk or secretary for Andrew Jenson, who served as assistant church historian from 1897 to 1941. Another unidentified Church Historian's Office staff member inscribed a graphite notation indicative of manuscript filing methods used in the Church Historian's Office during the same period. The letter is listed in a Church Historian's Office inventory from circa 1904. By 1973 the document had been included in the JS Collection at the Church Historical Department (now CHL). The dockets, notation, inventory, and inclusion in the JS Collection indicate continuous institutional custody of the letter since its receipt.

Footnotes

1

Bitton and Arrington, Mormons and Their Historians, 48–55.  

Bitton, David, and Leonard J. Arrington. Mormons and Their Historians. Salt Lake City: University of Utah Press, 1988.

2

"Letters to and from the Prophet," ca. 1904, 1, Historian's Office, Catalogs and Inventories, 1846–1904, CHL.  

Historian's Office. Catalogs and Inventories, 1846–1904. CHL. CR 100 130.

3

See the full bibliographic entry for JS Collection, 1827–1844, in the CHL catalog.  

Historical Introduction

Having just returned to from a mission in , Massachusetts, wrote a letter to JS on 18 September 1841, asking to be excused from another missionary assignment to the same place. Winchester had presided over the Philadelphia of the since April 1840 and had served a number of proselytizing missions in the eastern , including the one to Salem, which he served with from July to early September 1841. On 16 August 1841 a special church held in , Illinois, called Winchester to serve another mission in Salem with Snow. Citing his poor health, impoverished circumstances, and confidence in Snow's independent preaching abilities, Winchester asked in the letter featured here to be relieved from his new missionary assignment. In addition to this request, Winchester provided his observations on , who had recently come to Philadelphia.

The letter featured here is the original sent from and received by JS in , likely a couple of weeks after it was mailed in on 18 September 1841.

Footnotes

1

Snow, Journal, 1841–1847, 3–13. For more on Benjamin Winchester's role in the Philadelphia branch, see Philadelphia Branch Record Book, 6 Apr. and 14 Dec. 1840; 6 Apr. 1841; Benjamin Winchester, Philadelphia, PA, 10 Feb. 1840, Letter to the Editor, Times and Seasons, May 1840, 1:104; and Letter from Parley P. Pratt, 22 Nov. 1839.  

Snow, Erastus. Journals, 1835–1851; 1856–1857. CHL. MS 1329, box 1, fds. 1–3.

Philadelphia Branch, Record Book, 1840–1854. CCLA.

Times and Seasons. Commerce/Nauvoo, IL. Nov. 1839–Feb. 1846.

3

For more information on John E. Page and his travels, see Letter from John E. Page, 1 Sept. 1841.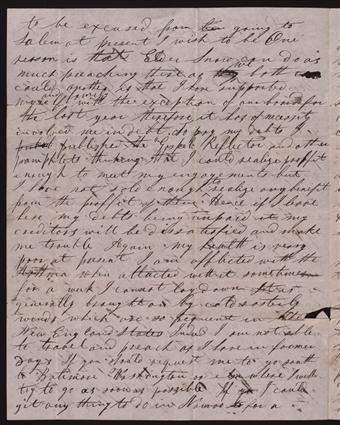 to be excused from going to at present I wish to be One reason is that can do as much preaching there as
they
<​we​> both could another is that I have supported myself <​and family​> with the exception of our board for the last year therefore, it has of necessity involved me in debt. To pay my debts I published the "Gospel Reflector" and other pamphlets thinking that I could realize proffit enough to meet my engagements but I have not sold enough <​to​> realize any benifit from the proffit of them Hence if I leave here my debts being unpaid
it
my creditors will be dissatisfied and make me trouble Again my health is verry poor at present I am afflicted with the Asthma when attacted with it some times for a week I cannot lay down It is generally brought on by cold easterly winds which are so frequent in the New England states Indeed I am not able to travel and preach as I have in former days If you should request me to go south to Ba[l]timore or else where I will try to go as soon as possible If
you
I could get any thing to do in
to
for a [p. [2]]
to be excused from going to at present I wish to be One reason is that can do as much preaching there as we both could another is that I have supported myself and family with the exception of our board for the last year therefore, it has of necessity involved me in debt. To pay my debts I published the "Gospel Reflector" and other pamphlets thinking that I could realize proffit enough to meet my engagements but I have not sold enough to realize any benifit from the proffit of them Hence if I leave here my debts being unpaid my creditors will be dissatisfied and make me trouble Again my health is verry poor at present I am afflicted with the Asthma when attacted with it some times for a week I cannot lay down It is generally brought on by cold easterly winds which are so frequent in the New England states Indeed I am not able to travel and preach as I have in former days If you should request me to go south to Baltimore or else where I will try to go as soon as possible If I could get any thing to do in for a [p. [2]]