Home

>
Letter from Reuben McBride, 1 January 1844
Source Note

, Letter, , Lake Co., OH, to JS, , Hancock Co., IL, 1 Jan. 1844; handwriting of ; endorsement in handwriting of ; docket in handwriting of ; two pages; JS Collection, CHL.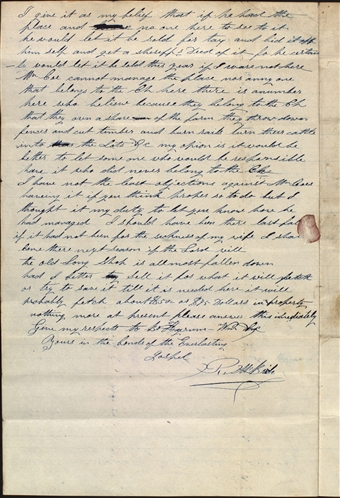 I give it as my belief that if he had the place and
house
no one here to see to it he would let it be sold for tax and bid it off him self and get a sheriff
s

.
Deed of it fo[r] he certainly would let it be sold this year if I were not here cannot manage the place nor anny one that belongs to the Ch[urch] here there is a number here who believe because they belong to the Ch that they own a share
in
of the farm they throw down fences and cut timber and burn rails turn their cattle into
thier
the Lots &c my op[in]ion is it would be better to let some one who would be responsible have it who did never belong to the C
h

.
— I have not the least objections against s haveing it if you think proper so to do but I thought it my duty to let you know how he had managed I should have been there last fal[l] if it had not been for the sickness of my wife I shal[l] come there next season if the Lord will
the old Long Shop is allmost fallen down had I better
try
Sell it for what it will fetch or try to save it till it is needed here it will probably fetch about $50— or $75 Dollars in property nothing more at present please answer this imediately
Give my respects to —
an
&c
Yours in the bonds of the Everlasting Gospel
I give it as my belief that if he had the place and no one here to see to it he would let it be sold for tax and bid it off him self and get a sheriff
s
. Deed of it for he certainly would let it be sold this year if I were not here cannot manage the place nor anny one that belongs to the Church here there is a number here who believe because they belong to the Ch that they own a share of the farm they throw down fences and cut timber and burn rails turn their cattle into the Lots &c my opinion is it would be better to let some one who would be responsible have it who did never belong to the C
h
.— I have not the least objections against s haveing it if you think proper so to do but I thought it my duty to let you know how he had managed I should have been there last fall if it had not been for the sickness of my wife I shall come there next season if the Lord will
the old Long Shop is allmost fallen down had I better Sell it for what it will fetch or try to save it till it is needed here it will probably fetch about $50— or $75 Dollars in property nothing more at present please answer this imediately
Give my respects to — &c
Yours in the bonds of the Everlasting Gospel