Letter from Robert D. Foster, 24 December 1839
Source Note

, Letter, , to JS, , PA, 24 Dec. 1839; in JS Letterbook 2, pp. 119–122; handwriting of ; CHL.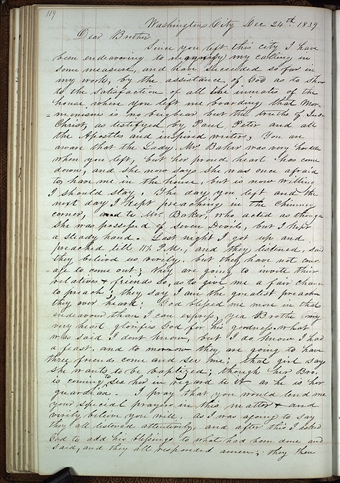 Dear Brother
Since you left this I have been endeavoring to magnify my calling in some measure, and have succeeded so far in my work, by the assistance of God as to show to the Satisfaction of all the inmates of the house where you left me boarding that Mormonism is no bugbear but the truths of Jesus Christ, as testifyed by Paul, Peter and all the Apostles and inspired writers, You are aware that the Lady. Mr
s.
Baker was very hostile when you left, but her proud heart has come down, and she now says she was once afraid to have me in the house, but is now willing I should stay. The day you left and the next day I kept preaching in the chimney corner,
and
to Mr
s.
Baker, who acted as though she was possessed of Seven Devils, but I kept a steady hand. Last night I got up and preached till 11½ P.M., and they listened, said they believd us verily, but they have not courage to come out; they are going to invite their relatives & friends so, as to give me a fair chance to preach; they say I am the greatest preacher they ever heard: God blessed me more in that endeavour than I can express, yea Brothe[r] <​my​> very heart glorifies God for his goodness. what was said I dont know, but I do know I had a feast, and to morrow they are going to have three friends come and see me; that girl says she wants to be ; though her Bro. is coming <​to​> see her in regard to it as he is her guardian. I pray that you would lend me your special prayers in this matter & and verily believe you will. As I was agoing to say they all listened attentively, and after this I asked God to add his blessings to what had been done and said, and they all responded amen; they then [p. 119]
Dec 24th. 1839
Dear Brother
Since you left this I have been endeavoring to magnify my calling in some measure, and have succeeded so far in my work, by the assistance of God as to show to the Satisfaction of all the inmates of the house where you left me boarding that Mormonism is no bugbear but the truths of Jesus Christ, as testifyed by Paul, Peter and all the Apostles and inspired writers, You are aware that the Lady. Mrs. Baker was very hostile when you left, but her proud heart has come down, and she now says she was once afraid to have me in the house, but is now willing I should stay. The day you left and the next day I kept preaching in the chimney corner, to Mrs. Baker, who acted as though she was possessed of Seven Devils, but I kept a steady hand. Last night I got up and preached till 11½ P.M., and they listened, said they believd us verily, but they have not courage to come out; they are going to invite their relatives & friends so, as to give me a fair chance to preach; they say I am the greatest preacher they ever heard: God blessed me more in that endeavour than I can express, yea Brother my very heart glorifies God for his goodness. what was said I dont know, but I do know I had a feast, and to morrow they are going to have three friends come and see me; that girl says she wants to be ; though her Bro. is coming to see her in regard to it as he is her guardian. I pray that you would lend me your special prayers in this matter & and verily believe you will. As I was agoing to say they all listened attentively, and after this I asked God to add his blessings to what had been done and said, and they all responded amen; they then [p. 119]