Home

>
Letter to Church Leaders in Jackson County, Missouri, 2 July 1833
Source Note

, JS, and , Letter, , Geauga Co., OH, to "Brethren," [, Mo.], 2 July 1833. Retained copy, [ca. 2 July 1833], in

JS Letterbook 1, pp. 51–54

; handwriting of ; JS Collection, CHL. For more complete source information, see the source note for

JS Letterbook 1

.

Historical Introduction

This letter was written in response to three letters, each dated 7 June 1833, that church leaders in , Ohio, received from , none of which have been located. The contents of this 2 July 1833 letter indicate that at least one of the letters from Missouri reported the safe arrival of and , who had been directed by a of in Kirtland to travel together to Missouri. The letter also suggests that at least one of the 7 June letters had inquired about the gift of tongues. In addition to addressing these topics, the letter from JS featured here included instructions for sending copies of the

Book of Commandments

—then being printed on the church's in , Missouri—to Kirtland and updated the Missouri church members on various developments in , including the health of Kirtland church members, Kirtland leaders' impending missionary journeys, and the news that JS had completed his translation of the Bible on the same day this 2 July 1833 letter was written. At one point in the letter, makes a first-person reference to himself, and he was also the first signer of the letter, indicating that he likely served as the principal author. Nevertheless, most of the letter is written in the first-person plural.

It is unclear whether church members in ever received this letter. Depending on a variety of factors, letters sent between and could take anywhere from ten days to a month to deliver. If the letter was mailed as intended on 3 July, it could have arrived in Independence as early as 13 July. If it traveled more slowly, however, it may have been lost in the confusion attending the mob violence that took place on 20 and 23 July in Independence.

Footnotes

1

Minutes, 30 Apr. 1833. An 8 March 1833 revelation directed Jaques to move to Missouri. Hobert moved to Jackson County, Missouri, in order to work as a typographer in the church's printing office there. (Revelation, 8 Mar. 1833 [D&C 90:28]; "Obituary," The Evening and the Morning Star, Dec. 1833, 117.)  

The Evening and the Morning Star. Independence, MO, June 1832–July 1833; Kirtland, OH, Dec. 1833–Sept. 1834.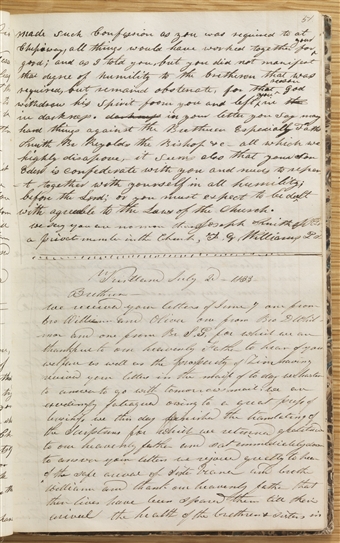 July 2d— 1833—
Brethren—
We received your letters of June 7 one from and one from Bro and one from Br for which we are thankful to our heavenly Father to hear of your welfare as well as the prosperity of Zion having received your letters in the mail of to day we hasten to answer to go with tomorrows mail, we are excedingly fateagued owing to a great press of business we this day finished the translating of the Scriptures for which we returned gratitude to our heavenly father and sat immediately down to answer your letters we rejoiced greatly to hear of the safe arival of and and thank our heavenly father that their lives have been spared them till their arival the health of the brethren & sisters in [p. 51]
July 2d— 1833—
Brethren—
We received your letters of June 7 one from and one from Bro and one from Br for which we are thankful to our heavenly Father to hear of your welfare as well as the prosperity of Zion having received your letters in the mail of to day we hasten to answer to go with tomorrows mail, we are excedingly fateagued owing to a great press of business we this day finished the translating of the Scriptures for which we returned gratitude to our heavenly father and sat immediately down to answer your letters we rejoiced greatly to hear of the safe arival of and and thank our heavenly father that their lives have been spared them till their arival the health of the brethren & sisters in [p. 51]