License for Leonard Soby, 5 December 1840
Source Note

License, , IL, for , 5 Dec. 1840; in Far West and Nauvoo Elders' Certificates, 65; handwriting of ; CHL. Second license on sheet of four licenses.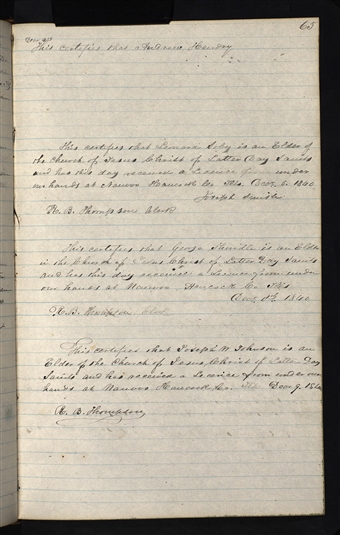 This certifies that is an Elder of the church of Jesus Christ of Latter Day Saints and has this day received a Licence from under our hands at Hancock Co Ills. Dec
r

.
5. 1840
Joseph Smith
Clerk [p. 65]
This certifies that is an Elder of the church of Jesus Christ of Latter Day Saints and has this day received a Licence from under our hands at Hancock Co Ills. Dec
r
. 5. 1840
Joseph Smith
Clerk [p. 65]