Home

>
Memorandum of Proclamation, 19 September 1842 [Extradition of JS for Accessory to Assault]
Source Note

, Memorandum of Proclamation, [, Cole Co., MO], 19 Sept. [1842],

Extradition of JS for Accessory to Assault

(State of MO, Office of the Governor 1842); State of Missouri, Office of the Secretary of State, Commissions Division, Register of Civil Proceedings, vol. A, p. 185; unidentified handwriting; MSA.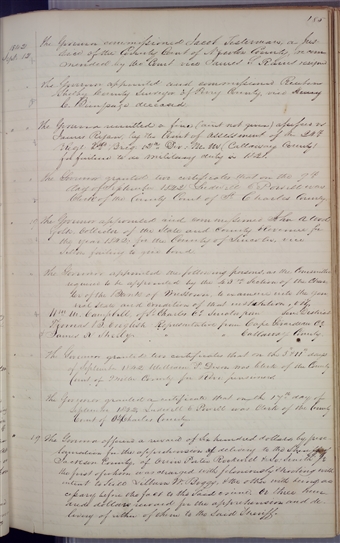 " [Sept.] 19
The offererd a reward of Six hundred dollars, by proclamation for the apprehension
of
<​&​> delivery to the of , of & Jo. Smith J
r.
the first of whom was charged with feloniously shooting with intent to kill , & the other with being accessary before the fact to the Said crime. Or three hundred dollars reward for the apprehension and delivery of either of them to the said . [p. 185]
" Sept. 19
The offererd a reward of Six hundred dollars, by proclamation for the apprehension & delivery to the of , of & Jo. Smith Jr. the first of whom was charged with feloniously shooting with intent to kill , & the other with being accessary before the fact to the Said crime. Or three hundred dollars reward for the apprehension and delivery of either of them to the said . [p. 185]