Home

>
Military Order to Hosea Stout, 29 April 1844
Source Note

JS, Military Order, to , , Hancock Co., IL, 29 April 1844; handwriting of ; signature of JS in handwriting of ; one page; photocopy in Hosea Stout, Papers, CHL.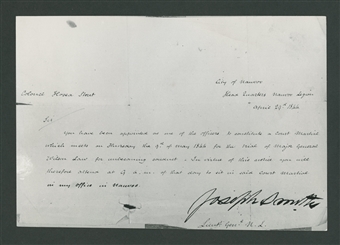 City of
Head Quarters Nauvoo Legion
Colonel
Sir
You have been appointed as one of the officers to constitute a Court Martial which meets on Thursday the 9
th.
of May 1844 for the trial of Major General for unbecoming conduct. In virtue of this notice you will therefore attend at 9 a. m. of that day to sit in said Court Martial in my in
Joseph Smith
Lieut
t.
Gen
l.
N. L. [p. [1]]
City of
Head Quarters Nauvoo Legion
April 29th. 1844
Colonel
Sir
You have been appointed as one of the officers to constitute a Court Martial which meets on Thursday the 9th. of May 1844 for the trial of Major General for unbecoming conduct. In virtue of this notice you will therefore attend at 9 a. m. of that day to sit in said Court Martial in my in
Joseph Smith
Lieutt. Genl. N. L. [p. [1]]