Home

>
Minutes, 13 May 1844
Source Note

Council of Fifty, Minutes, , Hancock Co., IL, 13 May 1844; in Council of Fifty, "Record," pp. [243]–[252]; handwriting of ; CHL.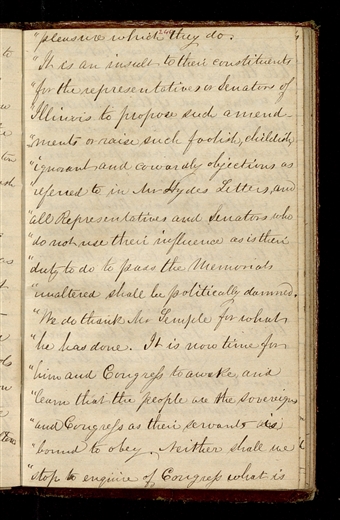 pleasure which they do.
It is an insult to their constituents for the representatives or Senators of to propose such amendments or raise such foolish, childish, ignorant and cowardly objections as referred to in s Letters, and all Representatives and Senators who do not use their influence as is their duty to do to pass the Memorials unaltered shall be politically damned. We do thank for what he has done. It is now time for him and Congress to awake, and learn that the people are the sovereigns and Congress as their servant
s
are
<​is​> bound to obey. Neither shall we stop to enquire of Congress what is [p. [251]]
pleasure which they do.
It is an insult to their constituents for the representatives or Senators of to propose such amendments or raise such foolish, childish, ignorant and cowardly objections as referred to in s Letters, and all Representatives and Senators who do not use their influence as is their duty to do to pass the Memorials unaltered shall be politically damned. We do thank for what he has done. It is now time for him and Congress to awake, and learn that the people are the sovereigns and Congress as their servant is bound to obey. Neither shall we stop to enquire of Congress what is [p. [251]]