Home

>
Minutes, 15 January 1842
Source Note

Nauvoo City Council, Minutes, , Hancock Co., IL, 15 Jan. 1842; in

Nauvoo City Council Rough Minute Book, Jan.–Nov. 1842, pp. 5–8

; handwriting of ; Nauvoo, IL, Records, 1841–1845, CHL.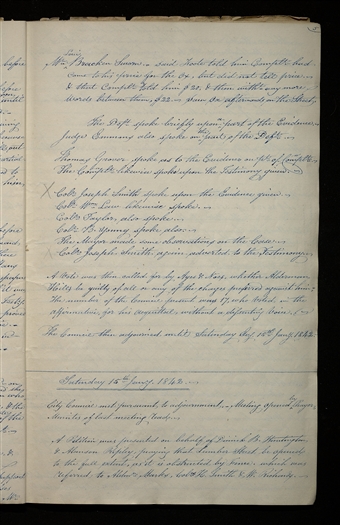 Saturday 15

th

Jan

y.

1842.—
City Council met pursuant to adjournment,— Meeting opened <​by​> Prayer, Minutes of last meeting Read.—
A Petition was presented on behalf of & , praying that Lumber Street be opened to the full extent, as it is obstructed by Fence. which was Referred to , Col
rs

.
& .— [p. 5]
Saturday 15

th

Jany. 1842.—
City Council met pursuant to adjournment,— Meeting opened by Prayer, Minutes of last meeting Read.—
A Petition was presented on behalf of & , praying that Lumber Street be opened to the full extent, as it is obstructed by Fence. which was Referred to , Col
rs
. & .— [p. 5]