Home

>
Minutes, 20 November 1841
Source Note

Nauvoo City Council, Minutes, , Hancock Co., IL, 20 Nov. 1841; in

Nauvoo City Council Rough Minute Book, Feb.–Dec. 1841, pp. 41–43

; handwriting of ; Nauvoo, IL, Records, 1841–1845, CHL.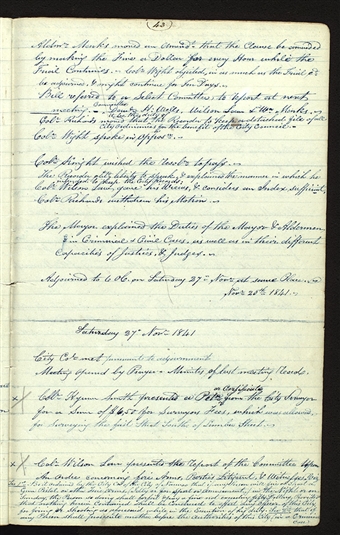 moved an Amend
t
that the Clause be amended by making the Fine a Dollar for every Hour while the Trial Continues.— objected, in as much as the Trial c
d

.
be adjourned, & might continue for Ten Days.—
Bill referred to a Select Committee, to Report at next meeting.— <​Committee​> , & .—
moved that <​it be the duty of​> the Recorder to keep a detached file of all <​City Ordinances for the benefit of the City Council.—​>
wished the Resol
n

.
to pass.—
The obt
d.
liberty to speak, & explained the manner in which he <​inteded to keep the City Records:​>
Col
r.
gave his Views, & considers an Index sufficient, withdrew his Motion.—
The explained the Duties of the Mayor & Aldermen
&
in Criminal & Civil Cases, as well as in their different Capacities of Justices, & Judges.—
Adjourned to 6 oC. on Saturday 27
th.
Nov
r.
at same Place.—
Nov
r

.
20
th

.
1841.— [p. 43]
moved an Amend
t
that the Clause be amended by making the Fine a Dollar for every Hour while the Trial Continues.— objected, in as much as the Trial c
d
. be adjourned, & might continue for Ten Days.—
Bill referred to a Select Committee, to Report at next meeting.— Committee , & .—
moved that it be the duty of the Recorder to keep a detached file of all City Ordinances for the benefit of the City Council.—
wished the Resol
n
. to pass.—
The obtd. liberty to speak, & explained the manner in which he inteded to keep the City Records:
Colr. gave his Views, & considers an Index sufficient, withdrew his Motion.—
The explained the Duties of the Mayor & Aldermen in Criminal & Civil Cases, as well as in their different Capacities of Justices, & Judges.—
Adjourned to 6 oC. on Saturday 27th. Novr. at same Place.—
Nov
r
. 20
th
. 1841.— [p. 43]