Home

>
Minutes and Testimonies, 12–29 November 1838, Copy and Letter [State of Missouri v. Gates et al. for Treason]
Source Note

Minutes and Testimonies, [, Ray Co., MO], 12–29 Nov. 1838,

State of MO v. Gates et al. for Treason

(Fifth Judicial Circuit of MO 1838). Copied with letter ca. late 1838–ca. early 1839; unidentified handwriting; fifty-one pages; Mormons Collection, 1813–1970, Missouri History Museum.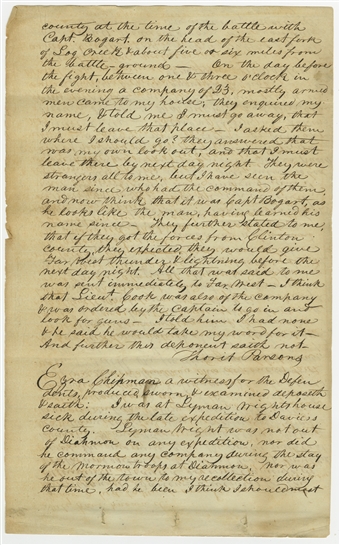 at the time of the battle with . on the head of the east fork of Log Creek & about five or six miles from the battle-ground— On the day before the fight, between one & three o'clock in the evening a company of 23, mostly armed men came to my house; they inquired my name, & told me I must go away, that I must leave that place— I asked them where I should go? they answered that was my own look out, and that I must leave there by next day night. They were strangers all to me, but I have seen the man since who had the command of them, and now think that it was , as he looks like the man, having learned his name since— They further stated to me, that if they got the forces from Clinton County, they expected, they would give thunder & lightning before the next day night. All that was said to me was sent immediately to — I think that Lieu
t.
Cook was also of the company & was ordered by the Captain to go in and look for guns— I told him I had none & he said he would take my word for it— And further this deponent saith not—
Thorit Parsons
Ezra Chipman a witness for the Defendents, produced, sworn, & examined deposeth & saith:
I was at s house sick during the late expedition to . was not out of on any expedition, nor did he command any company during the stay of the Mormons troops at , nor was he out of the to my recollection during that time, had he been I think I should most [p. [47]]
at the time of the battle with . on the head of the east fork of Log Creek & about five or six miles from the battle-ground— On the day before the fight, between one & three o'clock in the evening a company of 23, mostly armed men came to my house; they inquired my name, & told me I must go away, that I must leave that place— I asked them where I should go? they answered that was my own look out, and that I must leave there by next day night. They were strangers all to me, but I have seen the man since who had the command of them, and now think that it was , as he looks like the man, having learned his name since— They further stated to me, that if they got the forces from Clinton County, they expected, they would give thunder & lightning before the next day night. All that was said to me was sent immediately to — I think that Lieut. Cook was also of the company & was ordered by the Captain to go in and look for guns— I told him I had none & he said he would take my word for it— And further this deponent saith not—
Thorit Parsons
Ezra Chipman a witness for the Defendents, produced, sworn, & examined deposeth & saith:
I was at s house sick during the late expedition to . was not out of on any expedition, nor did he command any company during the stay of the Mormons troops at , nor was he out of the to my recollection during that time, had he been I think I should most [p. [47]]