Home

>
Minutes and Testimonies, 12–29 November 1838 [State of Missouri v. Gates et al. for Treason]
Source Note

Minutes and Testimonies, , Ray Co., MO, 12–29 Nov. 1838,

State of MO v. Gates et al. for Treason

(Fifth Judicial Circuit of MO 1838); unidentified handwriting; 126 pages; Eugene Morrow Violette Collection, State Historical Society of Missouri, Columbia.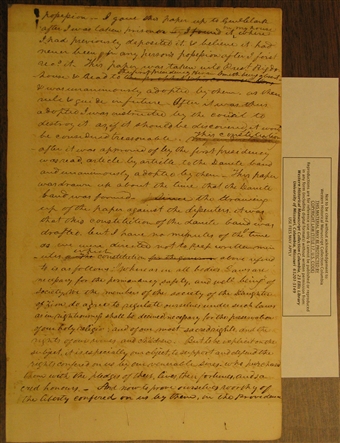 possession— I gave the paper up to after I was taken prisoner
by
— I found it <​in my house​> where I had previously deposited it. & believe it had never been
an
in any person's possession after I first rec
d.
it— This paper was taken into — house & read to
the prophet & his counsellors,
<​the first presidency being absent​>— & was unanimously adopted by them, as their rule & guide in future— After it was thus adopted I was instructed by the council to destroy it. as, if it should be discovered, it would be considered treasonable.
My understanding
<​This constitution​> after it was approved of by the first presidency was read, article by article to the Danite band and unanimously adopted by them— This paper was drawn up about the time that the Danite band was formed— Since the drawing up of the paper against the dissenters, it was that this constitution of the danite band was drafted, but I have no minutes of the time as we were directed not to keep written minutes,
and The
<​which​> constitution
for the
above refered to is as follows:
Whereas, in all bodies Laws are necessary for the permanency, safety, and well being of Society, we the members of the society of the Daughter of Zion do agree to regulate ourselves under such laws as in righteousness shall be deemed necessary for the preservation of our holy religion; and of our most sacred rights, and the rights of our wives and children. But to be explicit on the subject, it is especially our object, to support and defend the rights confered on us by our venerable sires, who purchased them with the pledges of their lives, their fortunes, and sacred honours.— And now to prove ourselves worthy of the liberty conferred on us by them, in the providence [p. [10]]
possession— I gave the paper up to after I was taken prisoner — I found it in my house where I had previously deposited it. & believe it had never been in any person's possession after I first recd. it— This paper was taken into — house & read to the first presidency being absent— & was unanimously adopted by them, as their rule & guide in future— After it was thus adopted I was instructed by the council to destroy it. as, if it should be discovered, it would be considered treasonable. This constitution after it was approved of by the first presidency was read, article by article to the Danite band and unanimously adopted by them— This paper was drawn up about the time that the Danite band was formed— Since the drawing up of the paper against the dissenters, it was that this constitution of the danite band was drafted, but I have no minutes of the time as we were directed not to keep written minutes, which constitution above refered to is as follows:
Whereas, in all bodies Laws are necessary for the permanency, safety, and well being of Society, we the members of the society of the Daughter of Zion do agree to regulate ourselves under such laws as in righteousness shall be deemed necessary for the preservation of our holy religion; and of our most sacred rights, and the rights of our wives and children. But to be explicit on the subject, it is especially our object, to support and defend the rights confered on us by our venerable sires, who purchased them with the pledges of their lives, their fortunes, and sacred honours.— And now to prove ourselves worthy of the liberty conferred on us by them, in the providence [p. [10]]