Home

>
Minutes and Testimonies, 12–29 November 1838 [State of Missouri v. Gates et al. for Treason]
Source Note

Minutes and Testimonies, , Ray Co., MO, 12–29 Nov. 1838,

State of MO v. Gates et al. for Treason

(Fifth Judicial Circuit of MO 1838); unidentified handwriting; 126 pages; Eugene Morrow Violette Collection, State Historical Society of Missouri, Columbia.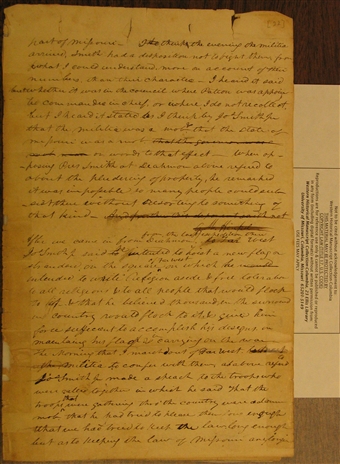 part of — I
He
think
s
the evening the militia arrived, Smith had a disposition not to fight them, from what I could understand, more on account of their numbers, than their character— I heard it said <​but​> whether it was in the council where was appointed commander in chief, or where, I do not recollect, but I heard it stated as I think by Jo
s
Smith Jr that the militia was a mob, <​&​> that the state of was a mob,
that the was a mob man
or words to that effect— When opposing Pres Smith at above referred to about the plu[n]dering of property, he remarked it was impossible so many people could subsist there without resorting to something of that kind—
And further this saith not.
After we came in from , <​from the last expedition there​> to Jo
s
Smith Jr said
to
<​he​> intented to hoist a new flag or strandard, on the square <​of ​> on which he
would
intended to
white
write "Religion aside & free toleration to all religions & to all people that would flock to
him
it— & that he believed thousands in the surrounding country would flock to it, & give him force sufficient to accomplish his designs, in maintaining his
flock
flag, & <​in​> carrying on the war— The Morning that I marchd out of to
march
meet
upon
the militia to confer with them, as above refered <​to​> Jo
s
Smith Jr made a speach to the troops who were called together in which he said That the troops <​that​> were gathering thro' the country were a damn mob, that he had tried to please them long enough that we had tried to keep the law long enough but as to keeping the law of any longer [p. [43]]
part of — I think the evening the militia arrived, Smith had a disposition not to fight them, from what I could understand, more on account of their numbers, than their character— I heard it said but whether it was in the council where was appointed commander in chief, or where, I do not recollect, but I heard it stated as I think by Jos Smith Jr that the militia was a mob, & that the state of was a mob, or words to that effect— When opposing Pres Smith at above referred to about the plundering of property, he remarked it was impossible so many people could subsist there without resorting to something of that kind—
After we came in from , from the last expedition there to Jos Smith Jr said he intented to hoist a new flag or strandard, on the square of on which he intended to write "Religion aside & free toleration to all religions & to all people that would flock to it— & that he believed thousands in the surrounding country would flock to it, & give him force sufficient to accomplish his designs, in maintaining his flag, & in carrying on the war— The Morning that I marchd out of to meet the militia to confer with them, as above refered to Jos Smith Jr made a speach to the troops who were called together in which he said That the troops that were gathering thro' the country were a damn mob, that he had tried to please them long enough that we had tried to keep the law long enough but as to keeping the law of any longer [p. [43]]