Home

>
Minutes and Testimonies, 12–29 November 1838 [State of Missouri v. Gates et al. for Treason]
Source Note

Minutes and Testimonies, , Ray Co., MO, 12–29 Nov. 1838,

State of MO v. Gates et al. for Treason

(Fifth Judicial Circuit of MO 1838); unidentified handwriting; 126 pages; Eugene Morrow Violette Collection, State Historical Society of Missouri, Columbia.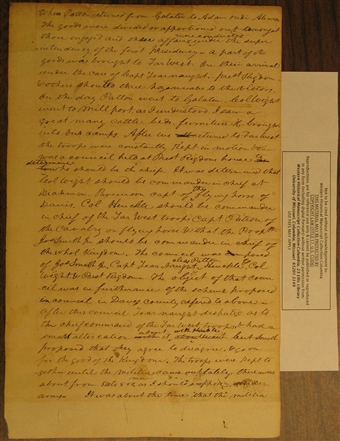 When returned from to The goods were divided or apportioned out amongst those engaged and
those
these affairs <​were conducted​> under the superintendency of the first presidency— a part of the goods was brought to . On their arrival under the care of , — & others shouted three hozannahs to the victors. On the day went to — went to Mill Port, as I understood. I saw a great many cattle, beds, furniture &c. brought into our camps. After we
all
returned to the troops were constantly Kept in motion & there was a council held at s house
at
<​to​>
to
<​determine​> who should be the chiefs. It was determined that should be commander in chief at . Cap
t.
of <​the​> flying horse of . should be commander in chief of the troops of the cavalry or flying horse. & that the prop
th
Jo
s
Smith Jr should be commander in chief of the whol[e] kingdom. The council was composed of Jo
s
Smith Jr. , , <​&​> , & — The object of that council was a furtherance of the scheme proposed in council in referred to above— After this council disputed as to the chief command of the troops, & had a
small
<​smart​> altercation
with
<​about​> it <​with ​>.
about weth
but Smith proposed that they agree to disagree, & go on for the good of the Kingdom. The troops were kept together until the militia came out lately. There was about from 500 to 800 <​men​> as I should suppose,
under
arms— It was about the time that the militia [p. [8]]
When returned from to The goods were divided or apportioned out amongst those engaged and these affairs were conducted under the superintendency of the first presidency— a part of the goods was brought to . On their arrival under the care of , — & others shouted three hozannahs to the victors. On the day went to — went to Mill Port, as I understood. I saw a great many cattle, beds, furniture &c. brought into our camps. After we returned to the troops were constantly Kept in motion & there was a council held at s house to determine who should be the chiefs. It was determined that should be commander in chief at . Capt. of the flying horse of . should be commander in chief of the troops of the cavalry or flying horse. & that the propth Jos Smith Jr should be commander in chief of the whole kingdom. The council was composed of Jos Smith Jr. , , & , & — The object of that council was a furtherance of the scheme proposed in council in referred to above— After this council disputed as to the chief command of the troops, & had a smart altercation about it with . but Smith proposed that they agree to disagree, & go on for the good of the Kingdom. The troops were kept together until the militia came out lately. There was about from 500 to 800 men as I should suppose, arms— It was about the time that the militia [p. [8]]