Home

>
Pay Order, James Sloan to Nauvoo City Treasurer for James Sloan, 11 March 1843
Source Note

, Pay Order, to Nauvoo city treasurer [], for , , Hancock Co., IL, 11 Mar. 1843; handwriting of ; endorsement in handwriting of ; one page; Nauvoo, IL, Records, 1841–1845, CHL. Includes seal.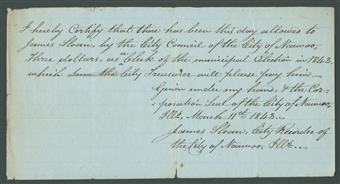 I hereby Certify that there has been this day allowed to , by the City Council of the City of , Three dollars, as <​a​> Clerk of the municipal Election in 1843, which sum the will please pay him.—
Given under my hand, & the Corporation Seal of the City of , Ill
s
, March 11
th

.
1843.—
[seal]
, City Recorder of the City of , Ill
s

.
.— [p. [1]]
I hereby Certify that there has been this day allowed to , by the City Council of the City of , Three dollars, as a Clerk of the municipal Election in 1843, which sum the will please pay him.—
Given under my hand, & the Corporation Seal of the City of , Ill
s
, March 11
th
. 1843.—
[seal]
, City Recorder of the City of , Ill
s
..— [p. [1]]