Home

>
Praecipe, circa 13 May 1844 [JS et al. v. C. B. Street and M. B. Street]
Source Note

Morrison & Grover on behalf of Charles B. Street and Marvin B. Street, Praecipe, to Circuit Court Clerk [], [, IL, ca. 13 May 1844],

JS et al. v. C. B. Street and M. B. Street

(Hancock Co., IL, Circuit Court 1846); unidentified handwriting, presumably either or William N. Grover; docket and notation probably by , [, Hancock Co., IL], 14 May 1844; two pages; Hancock County Courthouse, Carthage, IL.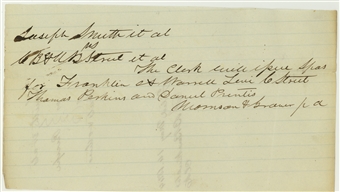 Joseph Smith et al
vs
C B [Charles B. Street] & M[arvin] B Street et al
The will issue spas [subpoenas] for Franklin A Worrell Levi C Street Thomas Perkins and
Morrison & Grover [p. [1]]
Joseph Smith et al
vs
C B Charles B. Street & Marvin B Street et al
The will issue spas [subpoenas] for Franklin A Worrell Levi C Street Thomas Perkins and
Morrison & Grover [p. [1]]