Promissory Note to Chauncey Robison, 22 October 1842–B
Source Note

JS by , agent, Promissory Note, , Hancock Co., IL, to , , Hancock Co., IL, 22 Oct. 1842; handwriting of ; signatures in handwriting of ; cancelation in handwriting of ; notation in handwriting of ; docket in unidentified handwriting; two pages; JS Collection, CHL.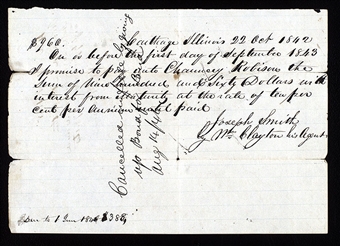 $960.
Illinois 22 Oct 1842
On or before the first day of September 1843 I promise to pay unto the Sum of Nine hundred and Sixty Dollars with interest from Maturity at the rate of ten per cent per Annum until paid
Joseph Smith
by his Agent
Due to 1 June 1846 $388,
Cancelled in full by giving up Bond for Land
Aug 14/46 [p. [1]]
$960.
Illinois 22 Oct 1842
On or before the first day of September 1843 I promise to pay unto the Sum of Nine hundred and Sixty Dollars with interest from Maturity at the rate of ten per cent per Annum until paid
Joseph Smith
by his Agent
Due to 1 June 1846 $388,
Cancelled in full by giving up Bond for Land
Aug 14/46 [p. [1]]