Home

>
Resolution, 12 March 1842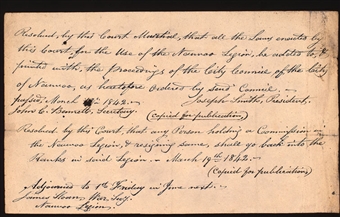 Resolved, by this Court Martial, that all the Laws enacted by this Court, for the Use of the , be added to, & printed with, the proceedings of the City Council of the City of , as heretofore Ordered by said Council.—
Joseph Smith, President
passed, March 12
th

.
1842.—
Secretary.
(
copied for publication
,) [p. [1]]
Resolved, by this Court Martial, that all the Laws enacted by this Court, for the Use of the , be added to, & printed with, the proceedings of the City Council of the City of , as heretofore Ordered by said Council.—
Joseph Smith, President
passed, March 12
th
. 1842.—
Secretary.
(
copied for publication
,) [p. [1]]