Home

>
Revelation, 29 October 1831 [D&C 66]
Source Note

Revelation, , OH, 29 Oct. 1831. Featured version copied [between ca. 30 Oct. 1831 and 15 Nov. 1831]; handwriting of ; two pages; in back of William E. McLellin notebook, "W. E. M

c.

Lellan Jan— 1877"; William E. McLellin, Papers, CHL. Includes redactive pagination.

The revelation is copied on the recto and verso of the fifth of five leaves measuring 6⅛ × 3 ⅝ inches (16 × 9 cm) found in the back of a notebook made up of larger leaves. These smaller leaves, bearing copies of a few revelations, may have originally been a gathering. They were apparently tucked into the back of the larger notebook, although it is possible that they were sewn in. The leaves of the larger notebook measure 7 × 4¼ × ⅛ inches (18 × 11 × ½ cm), and the reddish brown paper cover of the notebook measures 7¼ x 4½ inches (18 × 11 cm). The leaf containing the 29 October 1831 revelation—like the other smaller leaves—has suffered marked browning, brittleness, and wear. The primitive nature of the notebook, the worn edges of the leaves, and the conserved state of the document make the original sewing of the notebook, in general, and the sewing of the 29 October 1831 revelation, in particular, difficult to determine.

The notebook containing the revelation, along with other documents, was apparently inherited by McLellin's widow, Emeline Miller McLellin, who gave the documents to J. L. Traughber Jr. of Doucette, Texas. Traughber apparently acquired these items in 1884, when he also obtained a copy of the

Book of Commandments

from McLellin's widow. Traughber sold the documents to the LDS church in 1908. These documents were kept in the vault of the church's First Presidency until 1986, when they were loaned to the Historical Department (now Church History Department). Later, custody was permanently transferred to the Church History Library.

Footnotes

1

Turley, "Provenance of William E. McLellin's Journals," 257–261; see also Turley, Victims, 248–250.  

Turley, Richard E., Jr. "The Provenance of William E. McLellin's Journals." In The Journals of William E. McLellin, 1831–1836, edited by Jan Shipps and John W. Welch, 257–261. Provo, UT: BYU Studies; Urbana: University of Illinois Press, 1994.

Turley, Richard E., Jr. Victims: The LDS Church and the Mark Hofmann Case. Urbana: University of Illinois Press, 1992.

2

Letter of Transfer, Salt Lake City, UT, 27 Nov. 2012, CHL.  

Letter of Transfer, Salt Lake City, UT, 27 Nov. 2012. CHL.

Historical Introduction

On 29 October 1831, wrote in his journal, "The Lord condecended to hear my prayr and give me a revelation of his will, through his prophet or (Joseph)." McLellin, a recent convert from , Illinois, met JS for the first time at the 25–26 October 1831 in , Cuyahoga County, Ohio, where McLellin was to the . At the conclusion of the conference, he accompanied JS to , Ohio, arriving there on 29 October. McLellin later recalled that on that day, he "went before the Lord in secret, and on my knees asked him to reveal the answer to five questions through his Prophet." At McLellin's request, JS dictated a revelation for him, perhaps in the southeast upstairs bedroom of the and Alice (Elsa) Jacobs Johnson home, where JS worked on his revision of the Bible. According to McLellin, the revelation answered the questions "to my full and entire satisfaction." Although McLellin never explained what his five queries were, the revelation's contents indicate that he was probably concerned about his standing before God and about what the Lord desired him to do.

recounted that he wrote the words of this revelation as JS spoke them. Two copies of the revelation in McLellin's handwriting exist, but it does not appear that either is the original manuscript. One copy is in McLellin's journal, probably made soon after the revelation was dictated. The other is the copy in McLellin's notebook, featured below. McLellin apparently inscribed this copy sometime before 16 November 1831, when he departed on a mission. Three revelations precede the 29 October revelation in McLellin's notebook, including one dated 30 October 1831, indicating McLellin did not make these copies before that date. McLellin's journal corroborates this dating, stating that he stayed in from 29 October to 16 November and "read and copyed revelations, &c." also copied the revelation into

Revelation Book 1

sometime before he left for on 20 November.

's notebook copy appears to be a more complete reflection of the original revelation than either the journal copy or the copy made in Revelation Book 1. The journal copy probably predates the other two versions, but the spelling of certain words ("shew" instead of "show," which is in the journal copy, for example), the use of contractions, and the lack of punctuation suggest that the copies in McLellin's notebook and in Revelation Book 1 were derived from a nonextant copy of the original. The notebook version also appears to be more complete than the copy in Revelation Book 1 because the notebook contains an endnote regarding McLellin belonging to the lineage of Ephraim in the Old Testament (a note that also appears in the journal copy).

Footnotes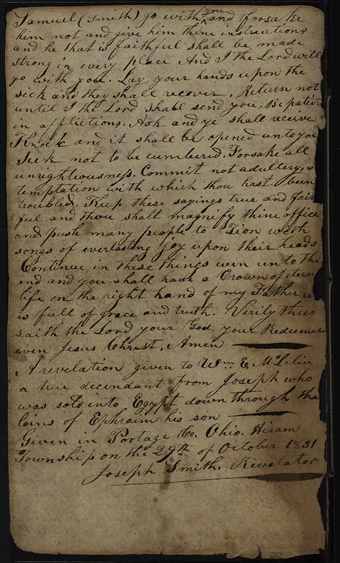 go with <​you​> and forsake him not and give him thine instructions and he that is faithful shall be made strong in every place And I the Lord will go with you. Lay your hands upon the sick and they shall recover. Return not until I the Lord shall send you, Be patien[t] in afflictions. Ask and ye shall receive Knock and it shall be opened unto you Seek not to be cumbered. Forsake all unrighteousness. Commit not adultery,
◊
temptation with which thou hast been troubled. Keep these sayings true and fait[h]ful and thou shalt magnify thine office and push many people to with songs of everlasting joy upon their heads Continue in these things even unto the end and you shall have a Crown of etern[al] life on the right hand of my Father w[ho] is full of grace and truth. Verily thus saith the Lord your God, your Redeemer even Jesus Christ. Amen
——
A revelation given to a true decendant from Joseph who was sold into Egypt down through the loins of Ephraim his son
——
Given in Portage Co. Ohio. on the 29
th.
of October 1831
Joseph Smith, Revelator
[p. [10]]
go with you and forsake him not and give him thine instructions and he that is faithful shall be made strong in every place And I the Lord will go with you. Lay your hands upon the sick and they shall recover. Return not until I the Lord shall send you, Be patient in afflictions. Ask and ye shall receive Knock and it shall be opened unto you Seek not to be cumbered. Forsake all unrighteousness. Commit not adultery, temptation with which thou hast been troubled. Keep these sayings true and faithful and thou shalt magnify thine office and push many people to with songs of everlasting joy upon their heads Continue in these things even unto the end and you shall have a Crown of eternal life on the right hand of my Father who is full of grace and truth. Verily thus saith the Lord your God, your Redeemer even Jesus Christ. Amen
——
A revelation given to a true decendant from Joseph who was sold into Egypt down through the loins of Ephraim his son
——
Given in Portage Co. Ohio. on the 29th. of October 1831
Joseph Smith, Revelator
[p. [10]]