Home

>
Revelation, April 1830–C [D&C 23:4]
Source Note

Revelation, , Ontario Co., NY, to , [Apr.] 1830. Featured version, titled "20

th

Commandment AD 1830," copied [ca. Mar. 1831] in

Revelation Book 1, pp. 29–30

; handwriting of ; CHL. Includes redactions. For more complete source information, see the source note for

Revelation Book 1

.

Historical Introduction

JS dictated this revelation for his brother shortly after the formal organization of the on 6 April 1830. It was one of five revelations that came after Samuel Smith, , , , and showed an eagerness to learn their respective responsibilities as members of the newly founded church. In May 1829, Samuel was the third believer to be , and he later held and examined the and testified of their existence.

Footnotes

1

See Historical Introduction to Revelation, Apr. 1830–A [D&C 23:1–2].  

2

JS History, vol. A-1, 18–19; Testimony of Eight Witnesses, Late June 1829.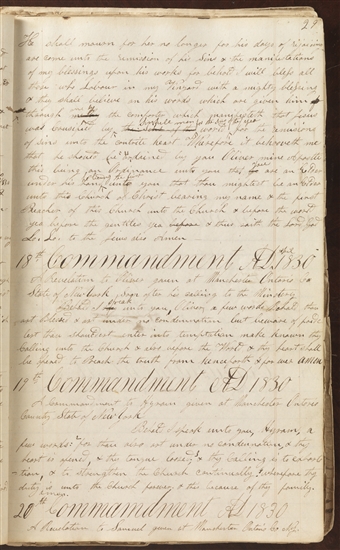 A Revelation to given at Ontario Co N.Y. [p. 29]
20th AD 1830
A Revelation to given at Ontario Co N.Y. [p. 29]