Home

>
Subpoena, 15 November 1838 [State of Missouri v. Gates et al. for Treason]
Source Note

, Subpoena, for Henry Wood, Robert Snodgrass, Freeburn Gardner, Samuel Kimble, Jeremiah Myers, Nathaniel Carr, William Splawn, Allen Rathburn, James Owens, Thomas Odle, and Charles Blakely, [], MO, 15 Nov. 1838,

State of MO v. Gates et al. for Treason

(Fifth Judicial Circuit of MO 1838); handwriting of two unidentified scribes; signature of ; docket by unidentified scribe, [, MO], [ca. 15 Nov. 1838]; notations by B. J. Brown, 23 Nov. 1838; two pages; private possession. Photocopy in Daviess County Legal Documents, BYU.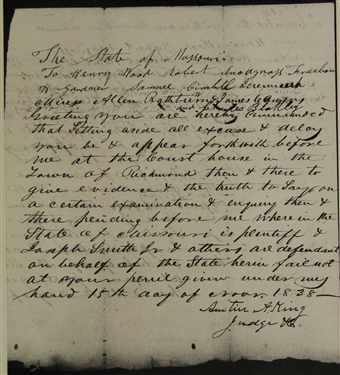 The State of —
To Henry Wood Robert Snodgrass Freebon [Freeburn] H Gardner Samuel Cimbll [Kimble] Jeremiah Miress [Myers] <​Nathaniel Carr and William Splawn​> Allen Rathburn & James C Owens <​and Thomas M Odell [Odle] and Charles Blakley [Blakely]​> Greeting you are hereby commanded that Setting aside all excuse & delay you be & appear forthwith before me at the Court house in the Town of then & there to give evidence & the truth to Say on a certain examination & enquiry then & there p[r]esiding before me where in the State of is plentiff & Joseph Smith Jr & others are defendant on behalf of the herin fail not at your perril given under my hand 15th day of Novr. 1838—
Judge &C. [p. [1]]
The State of —
To Henry Wood Robert Snodgrass Freebon [Freeburn] H Gardner Samuel Cimbll [Kimble] Jeremiah Miress [Myers] Nathaniel Carr and William Splawn Allen Rathburn & James C Owens and Thomas M Odell [Odle] and Charles Blakley [Blakely] Greeting you are hereby commanded that Setting aside all excuse & delay you be & appear forthwith before me at the Court house in the Town of then & there to give evidence & the truth to Say on a certain examination & enquiry then & there presiding before me where in the State of is plentiff & Joseph Smith Jr & others are defendant on behalf of the herin fail not at your perril given under my hand 15th day of Novr. 1838—
Judge &C. [p. [1]]