Home

>
Subpoena, 21 November 1838 [State of Missouri v. Gates et al. for Treason]
Source Note

, Subpoena, for James Blakely, Nathaniel Blakely, , Laburn Morin, John Lockhart, and Timothy Lewis, [], MO, 21 Nov. 1838,

State of MO v. Gates et al. for Treason

(Fifth Judicial Circuit of MO 1838); handwriting of ; docket by unidentified scribe, [, MO], [ca. 21 Nov. 1838]; notations by B. J. Brown, 25 Nov. 1838; two pages; CHL.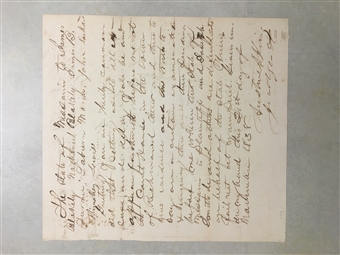 The State of to James Blakely Nathaniel Blakely , Laburn Morin, John Lockard [Lockhart] Thimathey Lewiss [Timothy Lewis]
Greeting, you are hereby commandid that setting aside all excuse and delay you be and appear forthwith before me at the Court House in the town of thenn and there to give evidence and the truth to say on a certain examination & enquiry then and there Pending before me wherein this State of is Plaintiff and Joseph Smith Jr and others are defendants on behalf of the state. Herein fail not at your Peril. Given under my hand this 21
st
day of November 1838
Judge— &c [p. [1]]
The State of to James Blakely Nathaniel Blakely , Laburn Morin, John Lockard [Lockhart] Thimathey Lewiss [Timothy Lewis]
Greeting, you are hereby commandid that setting aside all excuse and delay you be and appear forthwith before me at the Court House in the town of thenn and there to give evidence and the truth to say on a certain examination & enquiry then and there Pending before me wherein this State of is Plaintiff and Joseph Smith Jr and others are defendants on behalf of the state. Herein fail not at your Peril. Given under my hand this 21st day of November 1838
Judge— &c [p. [1]]