Home

>
Transcript of Proceedings, circa 16 April 1839 [Halsted, Haines & Co. v. O. Granger et al.]
Source Note

Transcript of Proceedings, , Geauga Co., OH, ca. 16 Apr. 1839,

Halsted, Haines & Co. v. O. Granger et al.

(Geauga Co., OH, Court of Common Pleas 1839); Geauga County Court of Common Pleas, Common Pleas Record, vol. W, pp. 384–386; unidentified handwriting; signature presumably of ; Geauga County Archives and Records Center, Chardon, OH.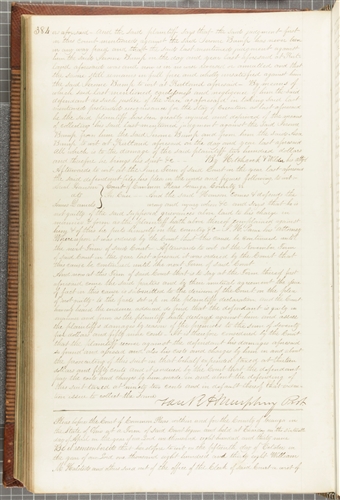 Pleas before the Court of Common Pleas within and for the County of in the State of at a Term of said Court begun and held at on the sixteenth day of April in the year of our Lord one thousand eight hundred and thirty nine
Be it remembered, that heretofore to wit, on the fifteenth day of October in the year of our Lord one thousand eight hundred and thirty eight and others sued out of the office of the of said Court a writ of [p. 384]
Pleas before the Court of Common Pleas within and for the County of in the State of at a Term of said Court begun and held at on the sixteenth day of April in the year of our Lord one thousand eight hundred and thirty nine
Be it remembered, that heretofore to wit, on the fifteenth day of October in the year of our Lord one thousand eight hundred and thirty eight and others sued out of the office of the of said Court a writ of [p. 384]