Home

>
Summons, 15 October 1838 [Halsted, Haines & Co. v. O. Granger et al.]
Source Note

Charles H. Foot, Summons, to Sheriff [], for and Others, , Geauga Co., OH, 15 Oct. 1838,

Halsted, Haines & Co. v. O. Granger et al.

(Geauga Co., OH, Court of Common Pleas 1839). Copied [ca. 16 Apr. 1839] in Transcript of Proceedings, Geauga County Court of Common Pleas, Common Pleas Record, vol. W, p. 385; unidentified handwriting; Geauga County Archives and Records Center, Chardon, OH. Includes seal.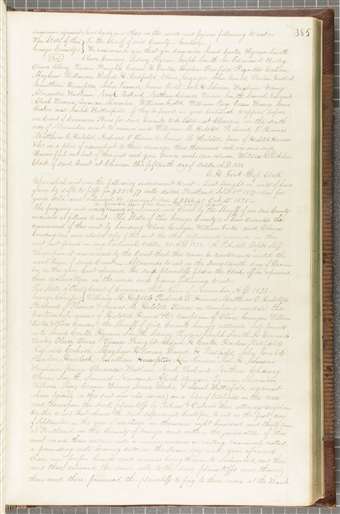 The State of Ohio)
ss. [scilicet])
Seal
To the of said — Greeting:—
We command you that you summon , , , , Joseph Smith Jr. , , , , , , , , , , , Jonathan Hampton, , , , , , , Nathan Cheney, , Samuel Newcomb , , William Foster, , Edson Barney, and , if they be found in your bailiwick, to appear before our Court of Common Pleas for said to be
holden
held at on the sixth day of November next to answer unto , , & , firm of Halsted Haines & C
o.
in a plea of assumpsit to their damage three thousand dollars as is said. Herein fail not but of this writ and your service make due return. Witness Clerk of said Court at this fifteenth day of October A.D. 1838
C[harles] H. Foot Dep Clerk
[. . .]
Suit brought on note of hand given by defts to plffs for $2251.77 dolls. dated Sept 1
st.
1837— Also for goods sold and delivered &c amount due $2266.40 Oct. 15. 1838—
[. . .]
The State of Ohio , ss. I have executed the command of this writ by handing , William Foster, and true and attested copy of this writ the other defendants named in this writ not found in my bailiwick October 30 A.D. 1838— Depty Shff [p. 385]
The State of Ohio)
ss. scilicet)
Seal
To the of said — Greeting:—
We command you that you summon , , , , Joseph Smith Jr. , , , , , , , , , , , Jonathan Hampton, , , , , , , Nathan Cheney, , Samuel Newcomb , , William Foster, , Edson Barney, and , if they be found in your bailiwick, to appear before our Court of Common Pleas for said to be held at on the sixth day of November next to answer unto , , & , firm of Halsted Haines & Co. in a plea of assumpsit to their damage three thousand dollars as is said. Herein fail not but of this writ and your service make due return. Witness Clerk of said Court at this fifteenth day of October A.D. 1838
Charles H. Foot Dep Clerk
[. . .]
Suit brought on note of hand given by defts to plffs for $2251.77 dolls. dated Sept 1st. 1837— Also for goods sold and delivered &c amount due $2266.40 Oct. 15. 1838—
[. . .]
The State of Ohio , ss. I have executed the command of this writ by handing , William Foster, and true and attested copy of this writ the other defendants named in this writ not found in my bailiwick October 30 A.D. 1838— Depty Shff [p. 385]