Home

>
Transcript of Proceedings, circa 20 June 1835 [State of Ohio v. JS for Assault and Battery]
Source Note

Transcript of Proceedings, [], Geauga Co., OH, ca. 20 June 1835,

State of OH v. JS for Assault and Battery

(Geauga Co., OH, Court of Common Pleas 1835); Geauga County Court of Common Pleas, Common Pleas Record, vol. Q, pp. 497–498; handwriting of Thomas P. Aiken; probable signature of Matthew Birchard; Geauga County Archives and Records Center, Chardon, OH.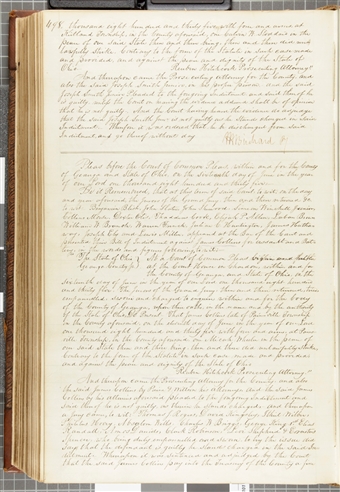 thousand eight hundred and thirty five with force and arms, at , in the aforesaid, one in the peace of our said then and there bring, then and there did unlawfully strike. Contrary to the form of the Statute in such case made and provided, and against the peace and dignity of the State of .—
Prosecuting Attorney."
And thereupon came the Prosecuting for the , and also the said Joseph Smith Junior, in his proper person.— And the said Joseph Smith Junior Pleaded to the foregoing Indictment, and said thereof he is guilty, unless the Court on hearing the evidence adduced shall be of opinion that he is not guilty—. And the Court having heard the evidence do adjudge that the said Joseph Smith Jun
r.
is not guilty as he Stands charged in said Indictment.— Wherefore it was ordered that he be discharged from said Indictment, and go thereof without day
M[atthew] Birchard PJ [President Judge] [p. 498]
thousand eight hundred and thirty five with force and arms, at , in the aforesaid, one in the peace of our said then and there bring, then and there did unlawfully strike. Contrary to the form of the Statute in such case made and provided, and against the peace and dignity of the State of .—
Prosecuting Attorney."
And thereupon came the Prosecuting for the , and also the said Joseph Smith Junior, in his proper person.— And the said Joseph Smith Junior Pleaded to the foregoing Indictment, and said thereof he is guilty, unless the Court on hearing the evidence adduced shall be of opinion that he is not guilty—. And the Court having heard the evidence do adjudge that the said Joseph Smith Junr. is not guilty as he Stands charged in said Indictment.— Wherefore it was ordered that he be discharged from said Indictment, and go thereof without day
Matthew Birchard PJ [President Judge] [p. 498]