Home

>
Transcript of Proceedings, Treason, 6 July 1839 [Extradition of JS et al. for Treason and Other Crimes]
Source Note

Transcript of Proceedings, Treason, [], Daviess Co., MO, 6 July 1839,

Extradition of JS et al. for Treason and Other Crimes

(State of MO, Office of the Governor 1841); handwriting of ; certified by , 6 July 1839; docket by unidentified scribe, [], Daviess Co., MO, [6 July 1839]; fourteen pages; Joseph Smith Extradition Records, Abraham Lincoln Presidential Library, Springfield, Illinois. Includes seal.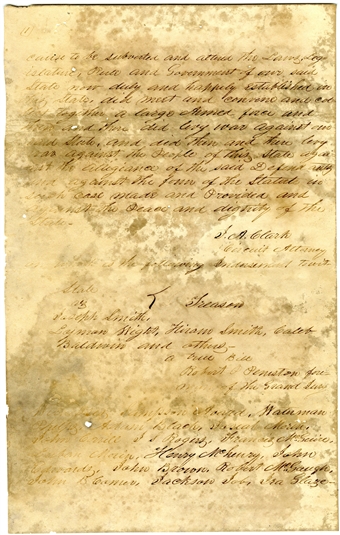 cause to be subverted and altered the Laws, Legislature, Rule and Government of our said now duly and happily established in this , did meet and convene and collect together a large Armed force and then and there did levy war against our said , and did then and there levy war against the People of this against the Alligiance of the said Defendants and against the form of the Statute in such case made and Provided and against The Peace and dignity of the —
Circuit Attorney
on which is the following Indorsement to wit—
| | |
| --- | --- |
| ) | |
| vs) | Treason |
| Joseph Smith, , , and others— | |
a
Robert P Peniston foreman of the Grand Jury
Witnesses , Waterman Phelps, , , , Francis M
c.
Guire, Laban Morin, Henry M
c
henry, John Edwards, , Robert M
c.
Gaugh, , Jackson Job, Ira Glaze— [p. [11]]
cause to be subverted and altered the Laws, Legislature, Rule and Government of our said now duly and happily established in this , did meet and convene and collect together a large Armed force and then and there did levy war against our said , and did then and there levy war against the People of this against the Alligiance of the said Defendants and against the form of the Statute in such case made and Provided and against The Peace and dignity of the —
Circuit Attorney
on which is the following Indorsement to wit—
| | |
| --- | --- |
| ) | |
| vs) | Treason |
| Joseph Smith, , , and others— | |
a
Robert P Peniston foreman of the Grand Jury
Witnesses , Waterman Phelps, , , , Francis Mc.Guire, Laban Morin, Henry Mchenry, John Edwards, , Robert Mc.Gaugh, , Jackson Job, Ira Glaze— [p. [11]]