Warrant, 4 April 1843 [State of Illinois v. Hoopes et al.]
Source Note

, Warrant for arrest of Jonathan Hoopes and Lewis Hoopes, to City Marshal [], [], Hancock Co., IL, 4 Apr. 1843,

State of IL v. Hoopes et al.

(Nauvoo, IL, Municipal Court 1843); copy; handwriting of ; certified by , 4 Apr. 1843; notation by , [, Hancock Co., IL], [ca. 4 Apr. 1843]; docket by , [ca. 4 Apr. 1843]; two pages; Nauvoo, IL, Records, CHL. Includes seal.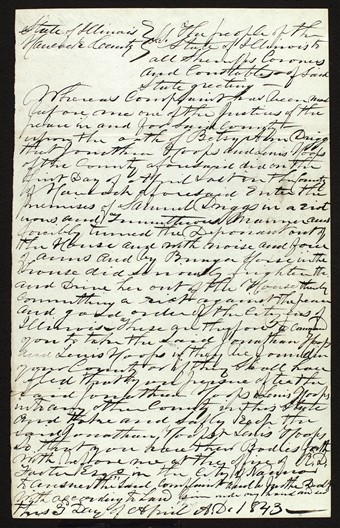 State of Illinois)
S.S. [scilicet]
)
The people of the State of to all Sherriffs Coroners and Constables— of said greeting—
Whereas Complaint has been made before me one of the Justices of the peace in and for said — upon the oath of Betsy Ann Drigg[s] that Jonathan Hoop[e]s and Lewis Hoop[e]s of the aforesaid did on the first Day of April Last in the County of aforesaid Enter the premises of Samuel Driggs in a riotuous and Tumultuous Manner and forcibly turned the Deponant out of the House and with noise and force of arms and by Bring a Horse in the house did Seriously frighten the and Drive her out of the House thereby committing a riot against the peace and good order of the citizens of — These are therfore to command you to take the Said Jonathan Hoops and Lewis Hoops if they be found in your or if they shall have fled that you persue after the Said Jonathan Hoops & Lewis Hoops into any other county in this and take and Safly keep the Said Jonathan Hoops & Lewis Hoops so that you have there Bodies forth with before me at the office of Esq
r

.
in the City of to answer the Said complaint and be furthe[r] Dealt with according to Law Given unde[r] my hand and seal this 3
d
Day of April A. D. 1843— [p. [1]]
State of Illinois)
S.S. [scilicet]
)
The people of the State of to all Sherriffs Coroners and Constables— of said greeting—
Whereas Complaint has been made before me one of the Justices of the peace in and for said — upon the oath of Betsy Ann Driggs that Jonathan Hoopes and Lewis Hoopes of the aforesaid did on the first Day of April Last in the County of aforesaid Enter the premises of Samuel Driggs in a riotuous and Tumultuous Manner and forcibly turned the Deponant out of the House and with noise and force of arms and by Bring a Horse in the house did Seriously frighten the and Drive her out of the House thereby committing a riot against the peace and good order of the citizens of — These are therfore to command you to take the Said Jonathan Hoops and Lewis Hoops if they be found in your or if they shall have fled that you persue after the Said Jonathan Hoops & Lewis Hoops into any other county in this and take and Safly keep the Said Jonathan Hoops & Lewis Hoops so that you have there Bodies forth with before me at the office of Esq
r
. in the City of to answer the Said complaint and be further Dealt with according to Law Given under my hand and seal this 3d Day of April A. D. 1843— [p. [1]]