Home

>

Documents, Volume 5: October 1835–January 1838
Documents, Volume 5: October 1835–January 1838

Purchase: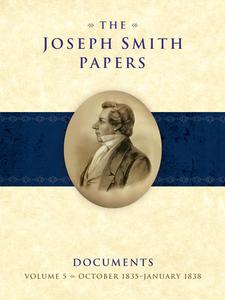 The fifth volume of the Documents series, to be published in spring 2017, contains revelations, discourses, prayers, legal documents, personal letters, a map, and banknotes, among other documents. The volume chronicles a period in Joseph Smith's life marked by both exuberance and turbulence. Specific topics addressed in these documents include the completion of the House of the Lord in Kirtland, Ohio, and the attendant endowment of power; the forced migration of the Latter-day Saints from Clay County, Missouri; the economic collapse in Kirtland in 1837; and Joseph Smith's attempts to overcome dissent in the church. ISBN-13: 978-1-62972-312-9
Volume Editors
Brent M. Rogers, Elizabeth A. Kuehn, Christian K. Heimburger, and Steven C. Harper are historians for the Church History Department, The Church of Jesus Christ of Latter-day Saints. Max H Parkin is a retired instructor for the Latter-day Saint Institute of Religion at the University of Utah. Alexander L. Baugh is a professor of church history and doctrine at Brigham Young University.
Additional Content
Volume Maps
Video
About This Volume
Perhaps no volume of the Joseph Smith Papers conveys the highs and lows of Joseph Smith's life better than Documents, Volume 5. Through letters, revelations, and meeting minutes—as well as more unusual documents such as a map, an essay on abolition, and a study of the Egyptian language—this volume brings to life the consequential and often emotionally charged months from October 1835 to January 1838.
The volume opens in the hopeful season leading up to the completion of the first Latter-day Saint temple, the House of the Lord in Kirtland, Ohio. In these months Joseph Smith pronounced new revelations, spent time organizing and unifying priesthood quorums, and introduced sacred ordinances. He relished such work, once recording in his journal, "This has been one of the best days that I ever spent."
The pinnacle of the volume is the dedication of the Kirtland temple in spring 1836. Latter-day Saints described remarkable spiritual outpourings at the time of the dedication, including seeing angels and visions. In addition, men who had been ordained to the priesthood recorded receiving the long-promised endowment of spiritual power. Shortly after, Joseph Smith and Oliver Cowdery reported visitations by Jesus Christ and ancient prophets, who bestowed priesthood authority.
Soon, however, the exuberance of the temple dedication seemed like a distant memory. Word came that the Saints in Missouri again faced expulsion from their homes. The Kirtland economy began to collapse amid a national financial panic. The church's newly founded banking institution, the Kirtland Safety Society, soon crumbled, and many Latter-day Saints, including Joseph Smith, lost substantial money and property. The House of the Lord itself, the center of the Saints' spiritual lives, was mortgaged in order to pay debts.
Facing these difficulties, some Saints—even some of Joseph Smith's closest friends—turned against him, declaring him a fallen prophet. Smith spent time in hiding as he faced threats against his life. Finally, in January 1838, a revelation commanded the First Presidency to leave Kirtland and seek refuge among the Missouri Saints.
The months between the temple dedication and Joseph Smith's relocation to Missouri are some of the least documented in early Latter-day Saint history. The texts presented here, together with the extensive annotation accompanying them, constitute one of the best sources for researching and understanding this tumultuous period. This volume also highlights the activities and perspectives of women by including letters from Emma Smith to her husband and relying on accounts by such eyewitnesses as Eliza R. Snow, Mary Fielding, and Vilate Murray Kimball.
Excerpts
Remarks to the Twelve Apostles
16 January 1836
I have sometimes spoken to[o] harsh from the impulse of the moment and inasmuch as I have wounded your feelings brethren I ask your forgivness, for I love you and will hold you up with all my heart in all righteousness before the Lord, and before all men, for be assured brethren I am willing to stem the torrent of all opposition; in storms in tempests in thunders and lightning by sea and by land in the wilderness or among fals brethren, or mobs or wherever God in his providence may call us and I am determined that neither hights nor depths principalities nor powers things present or to come nor any other creature shall separate me from you.
Letter from Emma Smith, Kirtland, Ohio, to Joseph Smith in Hiding
25 April 1837
Brother Knights will tell you better about the business than I can write, as there is but a moment for me to improve. I cannot tell you my feelings when I found I could not see you before you left, yet I expect you can realize them, the children feel very anxious about you because they dont know where you have gone; I verily feel that if I had no more confidence in God than some I could name, I should be in a sad case indeed but I still believe that if we humble ourselves, and are as faithful as we can be we shall be delivered from every snare that may be laid for our feet, and our lives and property will be saved . . . . My time is out, I pray that God will keep you in purity and safety till we all meet again.
Reviews
"For those who like me see an allure in the goings-on during the Kirtland time period of Restoration history, The Joseph Smith Papers, Documents, Volume 5: October 1835–1838 is truly a treasure trove of precious and captivating documents. To borrow a religious phrase, after reading the documents and notes provided by the Joseph Smith Papers scholars in this volume, truly my cup runneth over."
—Andrew Hamilton, "Review," Dawning of a Brighter Day (Association for Mormon Letters blog), accessed 7 September 2017, http://associationmormonletters.org/blog/reviews/older-reviews/rogers-et-al-eds-the-joseph-smith-papers-documents-volume-5-october-1835-january-1838-reviewed-by-andrew-hamilton
"As the introduction asserts, Documents, Volume 5 covers 'moments of elation and moments of upheaval' (xix), including an 1835 recounting of the First Vision, purchase of mummies and manuscripts leading to the Book of Abraham, the School of the Prophets, a physical altercation between William and Joseph Smith, attempts at reconciliation, construction of the House of the Lord in Kirtland, glorious heavenly visitations during the dedication ceremony, a national recession and failure of the Kirtland Safety Society, widespread apostasy, launch of the Elders' Journal, and Joseph Smith's move to Missouri. As with other volumes in the Documents series, the editing team succeeds in providing helpful and professional discussion of the documents, historical context, and artifacts. . . . Overall, this volume makes an important contribution to Mormon history and is well worth the time to search for historical treasure therein."
—R. Devan Jensen, Review of The Joseph Smith Papers, Documents 5: October 1835–January 1838, in Journal of Mormon History 44, no. 1 (January 2018): 186–188.
"The fifth installment in the Documents series throws open the doors into a high-energy period of Mormonism. . . . Although the volume opens with an optimistic Joseph encouraging the preaching of the gospel, it closes with a letter exposing the crumbling relationship between key leaders of the faith—Oliver Cowdery and Joseph Smith. What lies bookended between these documents is another prodigious accomplishment of The Joseph Smith Papers project."
—Robert M. Call, Review, The Journal of Mormon History, 44, no. 3 (2018), 141–143.