Home

>
Account of Hearing, 8 May 1844 [F. M. Higbee v. JS–A on Habeas Corpus]
Source Note

Account of Hearing, [, Hancock Co., IL], 8 May 1844,

F. M. Higbee v. JS–A on Habeas Corpus

(Nauvoo, IL, Municipal Court 1844); handwriting of ; docket by , [, Hancock Co., IL], 8 May 1844; notation by , 10 May 1844; docket by unidentified scribe, [ca. 10 May 1844]; fourteen pages; Nauvoo, IL, Records, CHL. Includes notation.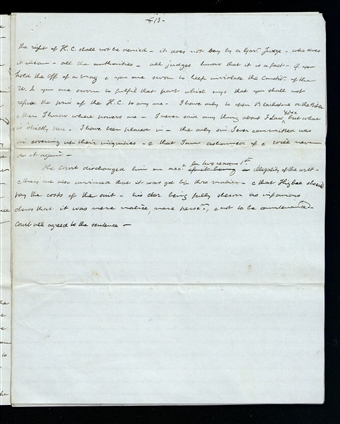 the right of H. C. shall not be denied— it does not say by a Gov
r
Judge— who does it mean— all the authorities— all judges know that it is a fact— if you hold the off[ice] of a mag[istrate] & you are sworn to keep inviolate the Constit[utio]
n.
of the you are sworn to fulfil that part which says that you shall not refuse the priv of the H. C. to any one— I have only to open Blackstone or the Bible & then I know where powers are— I never said any thing about F Law [] <​&c &c​> but what is strictly true— I have been placed in— the only sin I ever committed was in covering up their iniquities— & that I am ashamed of & will never do it again—
The Court discharged him on acc
t.
of it being
an
<​for two reasons 1
s

t

.
​> illegality of the writ— & they are also convinced that it was got up thro malice— & that should pay the costs of the suit— his char being fully shewn as infamous shews that it was mere malice, mere perse[cutio]
n.
, & not to be countenanced Court all agreed to the sentence— [
1/2 page blank
] [p. 13]
the right of H. C. shall not be denied— it does not say by a Govr Judge— who does it mean— all the authorities— all judges know that it is a fact— if you hold the office of a magistrate & you are sworn to keep inviolate the Constitution. of the you are sworn to fulfil that part which says that you shall not refuse the priv of the H. C. to any one— I have only to open Blackstone or the Bible & then I know where powers are— I never said any thing about F Law [] &c &c but what is strictly true— I have been placed in— the only sin I ever committed was in covering up their iniquities— & that I am ashamed of & will never do it again—
The Court discharged him on acct. for two reasons 1s
t
. illegality of the writ— & they are also convinced that it was got up thro malice— & that should pay the costs of the suit— his char being fully shewn as infamous shews that it was mere malice, mere persecution., & not to be countenanced Court all agreed to the sentence— [
1/2 page blank
] [p. 13]