Home

>
Trial Report Draft, 12 May 1844 [F. M. Higbee v. JS–A on Habeas Corpus]
Source Note

Trial Report, Draft, , Hancock Co., IL, [12–15] May 1844,

F. M. Higbee v. JS–A on Habeas Corpus

(Nauvoo, IL, Municipal Court 1844). Inscribed [12 May 1844]; handwriting of ; docket and notation by , [, Hancock Co., IL, 12 May 1844]; notation by , [ca. 12 May 1844]; two pages; JS Office Papers, CHL. Includes seal.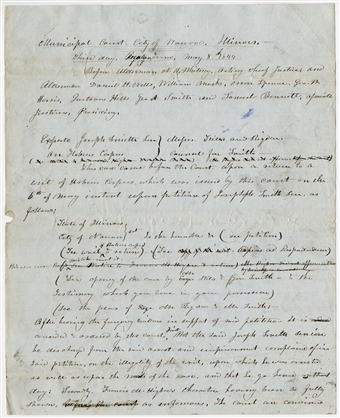 Municipal Court. City of , Illinois.—
Third day
.
May,

<​Regular​> Term,
May 8

th

. 1844
Before Alderman , Acting Chief Justice; and
Alderman
<​Aldermen​> , , , , and , Associate Justices, Presiding,
| | |
| --- | --- |
| Ex-parte Joseph Smith Sen) | Messrs. and .— |
| On Habeus Corpus) | Counsel for Smith— |
(
See
notice
to
&
return
thereon
)—
did
not
appear
,
before
the
Cout)
This case came before the Court. upon a return to a writ of Habeus Corpus, which was issued by this court on the 6
th
of May instant upon petition of Josepseph Smith Sen. as follows:
State of Illinois)
Sc[ilice]t
City of )
To the honorable &c (see petition)
(See writ <​of Habeus Copes)​> & return) (See
copy
of
the
writ.
)
(<​this was crosed th[r]ough mistake— insert it.​>)
See Notice to & return) did not appear. either by himself or counsel.—
(See openi[n]g of the case by
Esqr
& Gen Smith— & the Testimony which you have in your possession)
(See the pleas of
Esqr
& Mr Smith:—
After hearing the foregoing Evidnce in support of said petition. It is
ordered
conside[re]d & ordered by the court, <​First​> that the said Joseph Smith Senior be dischargd from the said arrest. and imprisonment complaind of in said petition, on the illegality of the writ, upon which he was arrested as well as upon the merits of the Case. and that he go hence without day: Secondly, 's character having been so fully shown,
as infamous befo
<​before the court​> as infamous, The Court are convinced [p. [1]]
Municipal Court. City of , Illinois.—
Third day
.
Regular Term,
May 8

th

. 1844
Before Alderman , Acting Chief Justice; and Aldermen , , , , and , Associate Justices, Presiding,
| | |
| --- | --- |
| Ex-parte Joseph Smith Sen) | Messrs. and .— |
| On Habeus Corpus) | Counsel for Smith— |
( )— ,
This case came before the Court. upon a return to a writ of Habeus Corpus, which was issued by this court on the 6th of May instant upon petition of Josepseph Smith Sen. as follows:
State of Illinois)
Scilicet
City of )
To the honorable &c (see petition)
(See writ of Habeus Copes) & return) (See )
(this was crosed through mistake— insert it.)
(See opening of the case by & Gen Smith— & the Testimony which you have in your possession)
(See the pleas of & Mr Smith:—
After hearing the foregoing Evidnce in support of said petition. It is considered & ordered by the court, First that the said Joseph Smith Senior be dischargd from the said arrest. and imprisonment complaind of in said petition, on the illegality of the writ, upon which he was arrested as well as upon the merits of the Case. and that he go hence without day: Secondly, 's character having been so fully shown, before the court as infamous, The Court are convinced [p. [1]]