Home

>
Affidavit, 24 June 1843 [JS v. Reynolds and Wilson–A]
Source Note

JS, Affidavit, before Charles Chase, , Lee Co., IL, 24 June 1843,

JS v. Reynolds and Wilson–A

(Lee Co., IL, Circuit Court 1844); handwriting of and ; signature of JS; certified by Charles Chase, 24 June 1843; docket by Charles Chase, [, Lee Co., IL, 24 June 1843]; notation by Charles Chase, 24 June 1843; docket by unidentified scribe, [ca. 25 June 1843]; three pages; first leaf of bifolium at BYU; photostat of verso of second leaf in JS v. Joseph H. Reynolds and Harmon T. Wilson, 1843–1845, CHL.

Bifolium measuring 12¼ × 7½ inches (31 × 19 cm). The affidavit was folded, and the leaves subsequently became separated. The second leaf is apparently not extant.

After its creation and use in JS's legal proceedings, the document was presumably stored in the Lee County Courthouse during the remainder of the nineteenth century and for much of the twentieth century. By 1973, photostats of the first leaf and the verso of the second leaf had been donated to the Church Historical Department (now CHL). It is unclear from the photostats whether the leaves were still connected at that point. (See Johnson,

Register of the Joseph Smith Collection,

5, 9.) In 1982, Lee County Circuit Court files were transferred to the Illinois Regional Archives Depository at Northern Illinois University in DeKalb, Illinois. (Inventory, 25 Oct. 1982, Lee Co., IL, Circuit Court Case Records, 1840–1940, Founders Memorial Library, Northern Illinois University, DeKalb.) On an unknown date, the affidavit was removed from the case file. By 1998, the first leaf, which contains the text of the affidavit, was acquired by Brigham Young University. (See Case File for JS, Deposition, 24 June 1843, BYU.) The second leaf has not been located.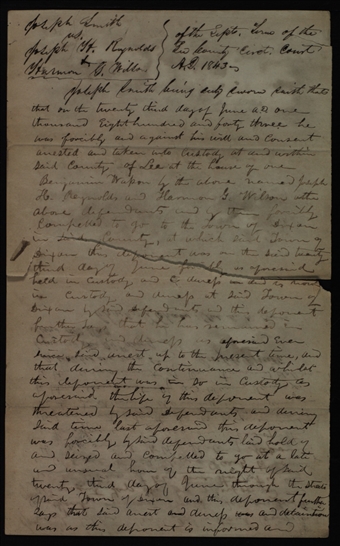 Joseph Smith)
of the Sep

t.

Term of the Circt. Court A.D. 1843—
vs.)
)
&)
)
Joseph Smith being duly sworn saith that that on the twenty third day of June A.D. one thousand Eight hundred and forty three he was forcibly and against his will and consent arrested and taken into custody at and within said County of at the house of one Benjamin Wasson by the above named and the above defendants and by them forcibly compelled to go to the Town of in said , at which said Town of this deponent was on the said twenty third day of June forcibly as aforesaid held in custody and duress
in
and is now in custody and duress at said Town of by said Defendants and this deponent further says that he has remained in custody and duress as aforesaid Ever since said arrest up to the present time, and that during the continuance and whilst this deponent was
in
so in custody as aforesaid the life of this deponent was threatened by said Defendants and during said time last aforesaid this deponent was forcibly by said defendants laid hold of and seized and compelled to go at a late and unsual hour of the night of said twenty third day of June through the streets of said Town of and this deponent further says that said arrest
and
duress
was
and detaintion was as this deponent is informed and [p. [1]]
Joseph Smith)
of the Sept. Term of the Circt. Court A.D. 1843—
vs.)
)
&)
)
Joseph Smith being duly sworn saith that that on the twenty third day of June A.D. one thousand Eight hundred and forty three he was forcibly and against his will and consent arrested and taken into custody at and within said County of at the house of one Benjamin Wasson by the above named and the above defendants and by them forcibly compelled to go to the Town of in said , at which said Town of this deponent was on the said twenty third day of June forcibly as aforesaid held in custody and duress and is now in custody and duress at said Town of by said Defendants and this deponent further says that he has remained in custody and duress as aforesaid Ever since said arrest up to the present time, and that during the continuance and whilst this deponent was so in custody as aforesaid the life of this deponent was threatened by said Defendants and during said time last aforesaid this deponent was forcibly by said defendants laid hold of and seized and compelled to go at a late and unsual hour of the night of said twenty third day of June through the streets of said Town of and this deponent further says that said arrest duress and detaintion was as this deponent is informed and [p. [1]]