Home

>
Book of Mormon, 1830
Source Note

The Book of Mormon: An Account Written by the Hand of Mormon, upon Plates Taken from the Plates of Nephi;

NY: Joseph Smith Jr., 1830; [i]–[590] pp.; includes typeset signature marks and copyright notice. The copy presented here is held at CHL; includes pasted newspaper clippings, bookplate, selling price and signature of former owner, and library markings.

This book was printed on thirty-seven sheets and folded into thirty-seven gatherings of eight leaves each, making a text block of 592 pages. The last printed leaf—bearing the signed statements of witnesses—is not numbered. The book includes two blank front flyleaves and two blank back flyleaves (other copies have three back flyleaves). The pages of the book measure 7¼ × 4⅝ inches (18 × 12 cm).

The book is bound in brown calfskin, with a black label on the spine: "BOOK OF | MORMON". The spine also bears seven double-bands in gilt. The book measures 7½ × 4¾ × 1¾ inches (19 × 12 × 4 cm). To the inside front cover are affixed four clippings of descriptions of different versions of first edition copies of the Book of Mormon and of an 1854 edition of the Doctrine and Covenants, along with a clipping describing the origin of the text of the Book of Mormon and a bookplate of the "Shepard Book Company" of Salt Lake City, Utah. There is also a pencil notation: "

CEEY-

| asxx". The recto of the first front flyleaf bears one clipping describing a first edition Book of Mormon for sale and several notations in pencil: "1st Edition" and "$

50.00

| BS KN". Pencil notation on verso of first flyleaf: "1st Edition" and "M222.1 | B724 | 1830 | #8". Pen notation on recto of second front flyleaf: "James H Moyle | March 22 1906". The page edges are decorated with a light blue speckled stain.

The price notation inscribed in the front of the book suggests that the book was sold. It is uncertain when this volume was placed in the care of the Church Historian's Office.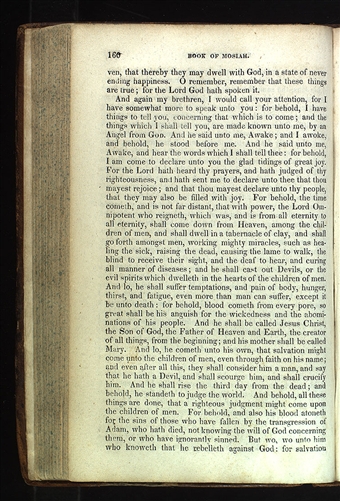 ven, that thereby they may dwell with God, in a state of neverending happiness. O remember, remember that these things are true; for the Lord God hath spoken it.
And again my brethren, I would call your attention, for I have somewhat more to speak unto you: for behold, I have things to tell you, concerning that which is to come; and the things which I shall tell you, are made known unto me, by an Angel from
God
. And he said unto me, Awake; and I awoke, and behold, he stood before me. And he said unto me, Awake, and hear the words which I shall tell thee: for behold, I am come to declare unto you the glad tidings of great joy. For the Lord hath heard thy prayers, and hath judged of thy righteousness, and hath sent me to declare unto thee that thou mayest rejoice; and that thou mayest declare unto thy people, that they may also be filled with joy. For behold, the time cometh, and is not far distant, that with power, the Lord Omnipotent who reigneth, which was, and is from all eternity to all eternity, shall come down from Heaven, among the children of men, and shall dwell in a tabernacle of clay, and shall go forth amongst men, working mighty miracles, such as healing the sick, raising the dead, causing the lame to walk, the blind to receive their sight, and the deaf to hear, and curing all manner of diseases; and he shall cast out Devils, or the evil spirits which dwelleth in the hearts of the children of men. And lo, he shall suffer temptations, and pain of body, hunger, thirst, and fatigue, even more than man can suffer, except it be unto death: for behold, blood cometh from every pore, so great shall be his anguish for the wickedness and the abominations of his people. And he shall be called Jesus Christ, the Son of God, the Father of Heaven and Earth, the creator of all things, from the beginning; and his mother shall be called Mary. And lo, he cometh unto his own, that salvation might come unto the children of men, even through faith on his name; and even after all this, they shall consider him a man, and say that he hath a Devil, and shall scourge him, and shall crucify him. And he shall rise the third day from the dead; and behold, he standeth to judge the world. And behold, all these things are done, that a righteous judgment might come upon the children of men. For behold, and also his blood atoneth for the sins of those who have fallen by the transgression of Adam, who hath died, not knowing the will of God concerning them, or who have ignorantly sinned. But wo, wo unto him who knoweth that he rebelleth against God: for salvation [p. 160]
ven, that thereby they may dwell with God, in a state of neverending happiness. O remember, remember that these things are true; for the Lord God hath spoken it.
And again my brethren, I would call your attention, for I have somewhat more to speak unto you: for behold, I have things to tell you, concerning that which is to come; and the things which I shall tell you, are made known unto me, by an Angel from
God
. And he said unto me, Awake; and I awoke, and behold, he stood before me. And he said unto me, Awake, and hear the words which I shall tell thee: for behold, I am come to declare unto you the glad tidings of great joy. For the Lord hath heard thy prayers, and hath judged of thy righteousness, and hath sent me to declare unto thee that thou mayest rejoice; and that thou mayest declare unto thy people, that they may also be filled with joy. For behold, the time cometh, and is not far distant, that with power, the Lord Omnipotent who reigneth, which was, and is from all eternity to all eternity, shall come down from Heaven, among the children of men, and shall dwell in a tabernacle of clay, and shall go forth amongst men, working mighty miracles, such as healing the sick, raising the dead, causing the lame to walk, the blind to receive their sight, and the deaf to hear, and curing all manner of diseases; and he shall cast out Devils, or the evil spirits which dwelleth in the hearts of the children of men. And lo, he shall suffer temptations, and pain of body, hunger, thirst, and fatigue, even more than man can suffer, except it be unto death: for behold, blood cometh from every pore, so great shall be his anguish for the wickedness and the abominations of his people. And he shall be called Jesus Christ, the Son of God, the Father of Heaven and Earth, the creator of all things, from the beginning; and his mother shall be called Mary. And lo, he cometh unto his own, that salvation might come unto the children of men, even through faith on his name; and even after all this, they shall consider him a man, and say that he hath a Devil, and shall scourge him, and shall crucify him. And he shall rise the third day from the dead; and behold, he standeth to judge the world. And behold, all these things are done, that a righteous judgment might come upon the children of men. For behold, and also his blood atoneth for the sins of those who have fallen by the transgression of Adam, who hath died, not knowing the will of God concerning them, or who have ignorantly sinned. But wo, wo unto him who knoweth that he rebelleth against God: for salvation [p. 160]