Home

>
Book of Mormon, 1830
Source Note

The Book of Mormon: An Account Written by the Hand of Mormon, upon Plates Taken from the Plates of Nephi;

NY: Joseph Smith Jr., 1830; [i]–[590] pp.; includes typeset signature marks and copyright notice. The copy presented here is held at CHL; includes pasted newspaper clippings, bookplate, selling price and signature of former owner, and library markings.

This book was printed on thirty-seven sheets and folded into thirty-seven gatherings of eight leaves each, making a text block of 592 pages. The last printed leaf—bearing the signed statements of witnesses—is not numbered. The book includes two blank front flyleaves and two blank back flyleaves (other copies have three back flyleaves). The pages of the book measure 7¼ × 4⅝ inches (18 × 12 cm).

The book is bound in brown calfskin, with a black label on the spine: "BOOK OF | MORMON". The spine also bears seven double-bands in gilt. The book measures 7½ × 4¾ × 1¾ inches (19 × 12 × 4 cm). To the inside front cover are affixed four clippings of descriptions of different versions of first edition copies of the Book of Mormon and of an 1854 edition of the Doctrine and Covenants, along with a clipping describing the origin of the text of the Book of Mormon and a bookplate of the "Shepard Book Company" of Salt Lake City, Utah. There is also a pencil notation: "

CEEY-

| asxx". The recto of the first front flyleaf bears one clipping describing a first edition Book of Mormon for sale and several notations in pencil: "1st Edition" and "$

50.00

| BS KN". Pencil notation on verso of first flyleaf: "1st Edition" and "M222.1 | B724 | 1830 | #8". Pen notation on recto of second front flyleaf: "James H Moyle | March 22 1906". The page edges are decorated with a light blue speckled stain.

The price notation inscribed in the front of the book suggests that the book was sold. It is uncertain when this volume was placed in the care of the Church Historian's Office.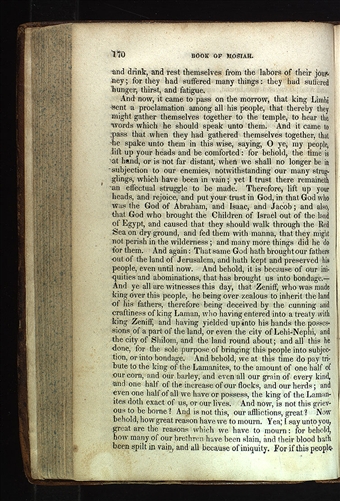 and drink, and rest themselves from the labors of their journey; for they had suffered many things: they had suffered hunger, thirst, and fatigue.
And now, it came to pass on the morrow, that king Limhi sent a proclamation among all his people, that thereby they might gather themselves together to the temple, to hear the words which he should speak unto them. And it came to pass that when they had gathered themselves together, that he spake unto them in this wise, saying, O ye, my people, lift up your heads and be comforted: for behold, the time is at hand, or is not far distant, when we shall no longer be in subjection to our enemies, notwithstanding our many strugglings, which have been in vain; yet I trust there remaineth an effectual struggle to be made. Therefore, lift up your heads, and rejoice, and put your trust in God, in that God who was the God of Abraham, and Isaac, and Jacob; and also, that God who brought the Children of Israel out of the land of Egypt, and caused that they should walk through the Red Sea on dry ground, and fed them with manna, that they might not perish in the wilderness; and many more things did he do for them. And again: That same God hath brought our fathers out of the land of Jerusalem, and hath kept and preserved his people, even until now. And behold, it is because of our iniquities and abominations, that has brought us into bondage.— And ye all are witnesses this day, that Zeniff, who was made king over this people, he being over zealous to inherit the land of his fathers, therefore being deceived by the cunning and craftiness of king Laman, who having entered into a treaty with king Zeniff, and having yielded up into his hands the possessions of a part of the land, or even the city of Lehi-Nephi, and the city of Shilom, and the land round about; and all this he done, for the sole purpose of bringing this people into subjection, or into bondage. And behold, we at this time do pay tribute to the king of the Lamanites, to the amount of one half of our corn, and our barley, and even all our grain of every kind, and one half of the increase of our flocks, and our herds; and even one half of all we have or possess, the king of the Lamanites doth exact of us, or our lives. And now, is not this grievous to be borne? And is not this, our afflictions, great? Now behold, how great reason have we to mourn. Yea; I say unto you, great are the reasons which we have to mourn: for behold, how many of our brethren have been slain, and their blood hath been spilt in vain, and all because of iniquity. For if this people [p. 170]
and drink, and rest themselves from the labors of their journey; for they had suffered many things: they had suffered hunger, thirst, and fatigue.
And now, it came to pass on the morrow, that king Limhi sent a proclamation among all his people, that thereby they might gather themselves together to the temple, to hear the words which he should speak unto them. And it came to pass that when they had gathered themselves together, that he spake unto them in this wise, saying, O ye, my people, lift up your heads and be comforted: for behold, the time is at hand, or is not far distant, when we shall no longer be in subjection to our enemies, notwithstanding our many strugglings, which have been in vain; yet I trust there remaineth an effectual struggle to be made. Therefore, lift up your heads, and rejoice, and put your trust in God, in that God who was the God of Abraham, and Isaac, and Jacob; and also, that God who brought the Children of Israel out of the land of Egypt, and caused that they should walk through the Red Sea on dry ground, and fed them with manna, that they might not perish in the wilderness; and many more things did he do for them. And again: That same God hath brought our fathers out of the land of Jerusalem, and hath kept and preserved his people, even until now. And behold, it is because of our iniquities and abominations, that has brought us into bondage.— And ye all are witnesses this day, that Zeniff, who was made king over this people, he being over zealous to inherit the land of his fathers, therefore being deceived by the cunning and craftiness of king Laman, who having entered into a treaty with king Zeniff, and having yielded up into his hands the possessions of a part of the land, or even the city of Lehi-Nephi, and the city of Shilom, and the land round about; and all this he done, for the sole purpose of bringing this people into subjection, or into bondage. And behold, we at this time do pay tribute to the king of the Lamanites, to the amount of one half of our corn, and our barley, and even all our grain of every kind, and one half of the increase of our flocks, and our herds; and even one half of all we have or possess, the king of the Lamanites doth exact of us, or our lives. And now, is not this grievous to be borne? And is not this, our afflictions, great? Now behold, how great reason have we to mourn. Yea; I say unto you, great are the reasons which we have to mourn: for behold, how many of our brethren have been slain, and their blood hath been spilt in vain, and all because of iniquity. For if this people [p. 170]