Home

>
Book of Mormon, 1830
Source Note

The Book of Mormon: An Account Written by the Hand of Mormon, upon Plates Taken from the Plates of Nephi;

NY: Joseph Smith Jr., 1830; [i]–[590] pp.; includes typeset signature marks and copyright notice. The copy presented here is held at CHL; includes pasted newspaper clippings, bookplate, selling price and signature of former owner, and library markings.

This book was printed on thirty-seven sheets and folded into thirty-seven gatherings of eight leaves each, making a text block of 592 pages. The last printed leaf—bearing the signed statements of witnesses—is not numbered. The book includes two blank front flyleaves and two blank back flyleaves (other copies have three back flyleaves). The pages of the book measure 7¼ × 4⅝ inches (18 × 12 cm).

The book is bound in brown calfskin, with a black label on the spine: "BOOK OF | MORMON". The spine also bears seven double-bands in gilt. The book measures 7½ × 4¾ × 1¾ inches (19 × 12 × 4 cm). To the inside front cover are affixed four clippings of descriptions of different versions of first edition copies of the Book of Mormon and of an 1854 edition of the Doctrine and Covenants, along with a clipping describing the origin of the text of the Book of Mormon and a bookplate of the "Shepard Book Company" of Salt Lake City, Utah. There is also a pencil notation: "

CEEY-

| asxx". The recto of the first front flyleaf bears one clipping describing a first edition Book of Mormon for sale and several notations in pencil: "1st Edition" and "$

50.00

| BS KN". Pencil notation on verso of first flyleaf: "1st Edition" and "M222.1 | B724 | 1830 | #8". Pen notation on recto of second front flyleaf: "James H Moyle | March 22 1906". The page edges are decorated with a light blue speckled stain.

The price notation inscribed in the front of the book suggests that the book was sold. It is uncertain when this volume was placed in the care of the Church Historian's Office.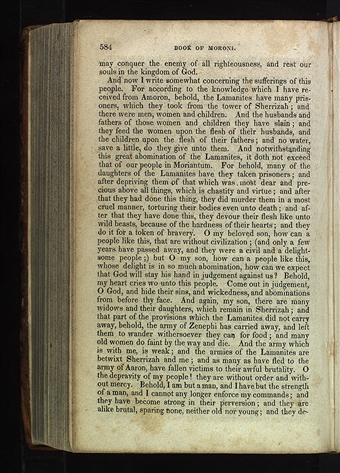 may conquer the enemy of all righteousness, and rest our souls in the kingdom of God.
And now I write somewhat concerning the sufferings of this people. For according to the knowledge which I have received from Amoron, behold, the Lamanites have many prisoners, which they took from the tower of Sherrizah; and there were men, women and children. And the husbands and fathers of those women and children they have slain; and they feed the women upon the flesh of their husbands, and the children upon the flesh of their fathers; and no water, save a little, do they give unto them. And notwithstanding this great abomination of the Lamanites, it doth not exceed that of our people in Moriantum. For behold, many of the daughters of the Lamanites have they taken prisoners; and after depriving them of that which was most dear and precious above all things, which is chastity and virtue; and after that they had done this thing, they did murder them in a most cruel manner, torturing their bodies even unto death; and after that they have done this, they devour their flesh like unto wild beasts, because of the hardness of their hearts; and they do it for a token of bravery. O my beloved son, how can a people like this, that are without civilization; (and only a few years have passed away, and they were a civil and a delightsome people;) but O my son, how can a people like this, whose delight is in so much abomination, how can we expect that God will stay his hand in judgement against us? Behold, my heart cries wo unto this people. Come out in judgement, O God, and hide their sins, and wickedness, and abominations from before thy face. And again, my son, there are many widows and their daughters, which remain in Sherrizah; and that part of the provisions which the Lamanites did not carry away, behold, the army of Zenephi has carried away, and left them to wander withersoever they can for food; and many old women do faint by the way and die. And the army which is with me, is weak; and the armies of the Lamanites are betwixt Sherrizah and me; and as many as have fled to the army of Aaron, have fallen victims to their awful brutality. O the depravity of my people! they are without order and without mercy. Behold, I am but a man, and I have but the strength of a man, and I cannot any longer enforce my commands; and they have become strong in their perversion; and they are alike brutal, sparing none, neither old nor young; and they de [p. 584]
may conquer the enemy of all righteousness, and rest our souls in the kingdom of God.
And now I write somewhat concerning the sufferings of this people. For according to the knowledge which I have received from Amoron, behold, the Lamanites have many prisoners, which they took from the tower of Sherrizah; and there were men, women and children. And the husbands and fathers of those women and children they have slain; and they feed the women upon the flesh of their husbands, and the children upon the flesh of their fathers; and no water, save a little, do they give unto them. And notwithstanding this great abomination of the Lamanites, it doth not exceed that of our people in Moriantum. For behold, many of the daughters of the Lamanites have they taken prisoners; and after depriving them of that which was most dear and precious above all things, which is chastity and virtue; and after that they had done this thing, they did murder them in a most cruel manner, torturing their bodies even unto death; and after that they have done this, they devour their flesh like unto wild beasts, because of the hardness of their hearts; and they do it for a token of bravery. O my beloved son, how can a people like this, that are without civilization; (and only a few years have passed away, and they were a civil and a delightsome people;) but O my son, how can a people like this, whose delight is in so much abomination, how can we expect that God will stay his hand in judgement against us? Behold, my heart cries wo unto this people. Come out in judgement, O God, and hide their sins, and wickedness, and abominations from before thy face. And again, my son, there are many widows and their daughters, which remain in Sherrizah; and that part of the provisions which the Lamanites did not carry away, behold, the army of Zenephi has carried away, and left them to wander withersoever they can for food; and many old women do faint by the way and die. And the army which is with me, is weak; and the armies of the Lamanites are betwixt Sherrizah and me; and as many as have fled to the army of Aaron, have fallen victims to their awful brutality. O the depravity of my people! they are without order and without mercy. Behold, I am but a man, and I have but the strength of a man, and I cannot any longer enforce my commands; and they have become strong in their perversion; and they are alike brutal, sparing none, neither old nor young; and they de [p. 584]